78 of 100
Build-A-Bear Workshop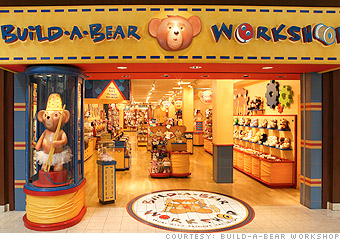 78
Rank
: 78
Previous rank
: 62
2011 revenue ($ millions)
: $394
What makes it so great?
Though the retailer plans to close more than 50 stores in the next two years, employees at shuttered stores are being offered transfers to other locations.
Headquarters:
St. Louis, MO
Website: www.buildabear.com
Network with Build-A-Bear
Employees
Employees outside U.S.
1,243
Jobs
% job growth (1 year)
-12%
Job openings
(as of 1/2/13)
51
Most common job (salaried):
Chief Workshop Manager
$51,739
Most common job (hourly):
Assistant Workshop Manager
$36,325
Fully paid sabbaticals
No
Health
100% health-care coverage
No
Subsidized gym membership
No
Diversity
Has nondiscrimination policy
that includes sexual orientation?
Yes
Offers domestic partner benefits
for same-sex couples?
Yes
Professional training
Salaried employees (hrs./yr.):
35
Hourly employees (hrs./yr.):
37
From the Feb. 4, 2013 issue