8 of 100
Edward Jones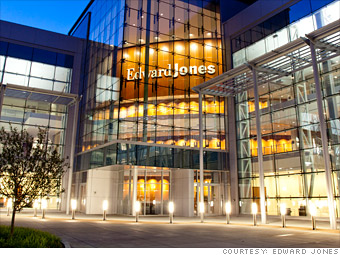 8
Rank
: 8
Previous rank
: 5
2011 revenue ($ millions)
: $4,577
What makes it so great?
The privately held securities firm maintains some 11,000 small offices and a close-knit culture with regular regional gatherings for ice skating, fishing tournaments, and more. Forty-four percent of new hires come from employee referrals.
Headquarters:
St. Louis, MO
Website: www.edwardjones.com
Network with Edward Jones
Employees
Employees outside U.S.
1,860
Jobs
% job growth (1 year)
-1%
Job openings
(as of 1/2/13)
4,630
Most common job (salaried):
Sr. Programmer Analyst
$83,010
Most common job (hourly):
Branch Office Administrator
$34,864
Fully paid sabbaticals
No
Health
100% health-care coverage
No
Subsidized gym membership
Yes
Diversity
Has nondiscrimination policy
that includes sexual orientation?
Yes
Offers domestic partner benefits
for same-sex couples?
Yes
Professional training
Salaried employees (hrs./yr.):
124
Hourly employees (hrs./yr.):
29
From the Feb. 4, 2013 issue