99 of 100
Grainger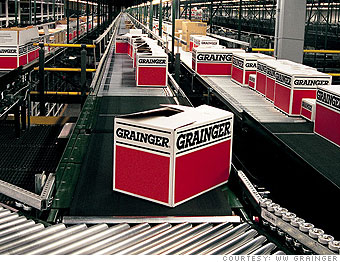 99
Rank
: 99
Previous rank
: N.A.
2011 revenue ($ millions)
: $8,078
What makes it so great?
The diversified distributor offers a generous profit-sharing plan: Workers with five years' service got some 20% of pay plunked into retirement accounts last year.
Headquarters:
Lake Forest, IL
Website: www.grainger.com
Employees
Employees outside U.S.
6,582
Jobs
Job openings
(as of 1/2/13)
484
Most common job (salaried):
Account Manager
$87,024
Most common job (hourly):
Distribution Center Associate
$37,420
Fully paid sabbaticals
No
Health
100% health-care coverage
No
Onsite fitness center
Yes
Subsidized gym membership
No
Diversity
Has nondiscrimination policy
that includes sexual orientation?
Yes
Offers domestic partner benefits
for same-sex couples?
Yes
Professional training
Salaried employees (hrs./yr.):
22
Hourly employees (hrs./yr.):
9
From the Feb. 4, 2013 issue