14 of 100
Burns & McDonnell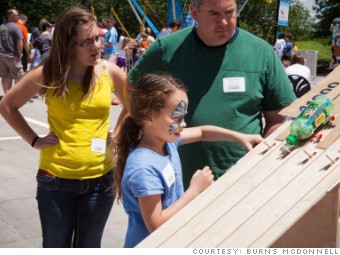 14
Rank
: 14
Previous rank
: 18
Annual revenue ($ millions)
: $1,556
What makes it so great?
The employee-owned engineering consulting firm boasts one of the best stock-ownership plans in the nation. Eligible employees receive cash to purchase shares at current market value, with no one owning more than 2%. Workers can use onsite health and fitness centers, and two offices have electric-car charging stations.
Headquarters:
Kansas City, MO
Website:
www.burnsmcd.com
Read Burns & McDonnell's Great Rated! review
here
.
Network with Burns & McDonnell
Employees
Employees outside U.S.
40
Jobs
% job growth (1 year)
6.8%
Job openings
(as of 1/2/14)
600
Most common job (salaried):
Electrical Engineer
$127,650
Most common job (hourly):
Drafter-Detailer
$55,700
Fully paid sabbaticals
No
Health
100% health-care coverage
No
Onsite fitness center
Yes
Subsidized gym membership
No
Diversity
Has nondiscrimination policy
that includes sexual orientation?
Yes
Offers domestic partner benefits
for same-sex couples?
Yes
Professional training
Salaried employees (hrs./yr.):
17
Hourly employees (hrs./yr.):
5
From the February 3, 2014 issue