16 of 100
CHG Healthcare Services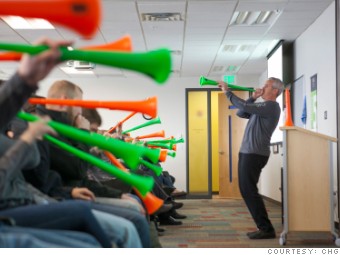 16
Rank
: 16
Previous rank
: 3
Annual revenue ($ millions)
: $746
What makes it so great?
While employees at this health care staffing firm love coming to work, they don't mind 29 paid days off per year (after one year of employment), plus the ability to sell back unused vacation time at 50% of real value. A recently added extra "floating" holiday allows another day to be used at their discretion.
Headquarters:
Salt Lake City, UT
Website:
www.chghealthcare.com
Read CHG Healthcare Services's Great Rated! review
here
.
Network with CHG Healthcare Services
Jobs
% job growth (1 year)
16.3%
Job openings
(as of 1/2/14)
64
Most common job (salaried):
Sales Consultant/Physician Recruiter
$68,708
Most common job (hourly):
Medical Staff Coordinator
$41,520
Fully paid sabbaticals
No
Health
100% health-care coverage
No
Onsite fitness center
Yes
Subsidized gym membership
Yes
Diversity
Has nondiscrimination policy
that includes sexual orientation?
Yes
Offers domestic partner benefits
for same-sex couples?
Yes
Professional training
Salaried employees (hrs./yr.):
125
Hourly employees (hrs./yr.):
96
From the February 3, 2014 issue