18 of 100
Southern Ohio Medical Center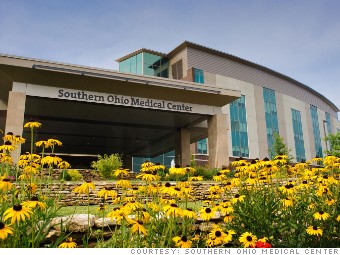 18
Rank
: 18
Previous rank
: 29
Annual revenue ($ millions)
: $290
What makes it so great?
This regional health care system pays 100% of tuition for employees seeking to advance their education and pursue a degree in the medical field. For other degrees, employees are eligible for up to $5,200 in tuition reimbursement a year for themselves or an immediate family member.
Headquarters:
Portsmouth, OH
Website:
www.somc.org
Read Southern Ohio Medical Center's Great Rated! review
here
.
Network with Southern Ohio Medical Center
Jobs
% job growth (1 year)
4.8%
Job openings
(as of 1/2/14)
44
Most common job (salaried):
Nurse Manager
$98,434
Most common job (hourly):
Registered Nurse
$50,583
Fully paid sabbaticals
No
Health
100% health-care coverage
No
Onsite fitness center
Yes
Subsidized gym membership
Yes
Diversity
Has nondiscrimination policy
that includes sexual orientation?
Yes
Offers domestic partner benefits
for same-sex couples?
Yes
Professional training
Salaried employees (hrs./yr.):
23
Hourly employees (hrs./yr.):
25
From the February 3, 2014 issue