2 of 100
SAS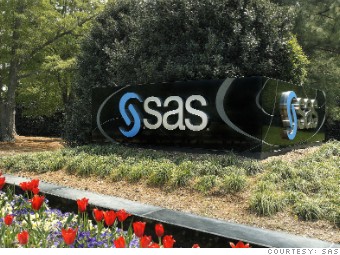 2
Rank
: 2
Previous rank
: 2
Annual revenue ($ millions)
: $2,870
What makes it so great?
Employees of the software developer use the services of its onsite health center, which is also open to family members. The facility counts 53 medical and support staff, including 11 nurse practitioners, three family-practice physicians, three registered dietitians, 11 nurses, five lab techs, a psychologist, and three physical therapists.
Headquarters:
Cary, NC
Website:
www.sas.com
Read SAS's Great Rated! review
here
.
Employees
Employees outside U.S.
7,296
Jobs
% job growth (1 year)
3.6%
Job openings
(as of 1/2/14)
94
Most common job (salaried):
Software Developer
N.A.
Most common job (hourly):
Office Administrator
N.A.
Fully paid sabbaticals
No
Health
100% health-care coverage
No
Onsite fitness center
Yes
Subsidized gym membership
Yes
Diversity
Has nondiscrimination policy
that includes sexual orientation?
Yes
Offers domestic partner benefits
for same-sex couples?
Yes
Professional training
Salaried employees (hrs./yr.):
26
Hourly employees (hrs./yr.):
14
From the February 3, 2014 issue