29 of 100
Rackspace Hosting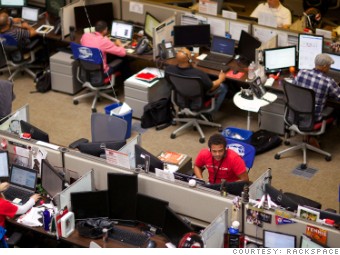 29
Rank
: 29
Previous rank
: 34
Annual revenue ($ millions)
: $1,309
What makes it so great?
A high-tech renaissance in San Antonio? That's Rackspace's dream. It launched the Open Cloud Academy in downtown San Antonio to train people for jobs in technology. More than 60% of the graduates were recruited to Rackspace, and all received full-time jobs. Last year saw nearly 52,000 people apply for 569 new openings.
Headquarters:
San Antonio, TX
Website:
www.rackspace.com
Read Rackspace Hosting's Great Rated! review
here
.
Network with Rackspace Hosting
Employees
Employees outside U.S.
1,036
Jobs
% job growth (1 year)
16.1%
Job openings
(as of 1/2/14)
187
Most common job (salaried):
Linux Administrator I - US
$51,700
Most common job (hourly):
Customer Service Technician I - US
$34,100
Fully paid sabbaticals
Yes
Health
100% health-care coverage
Yes
Onsite fitness center
Yes
Subsidized gym membership
Yes
Diversity
Has nondiscrimination policy
that includes sexual orientation?
Yes
Offers domestic partner benefits
for same-sex couples?
Yes
Professional training
Salaried employees (hrs./yr.):
41
Hourly employees (hrs./yr.):
41
From the February 3, 2014 issue