36 of 100
Nugget Market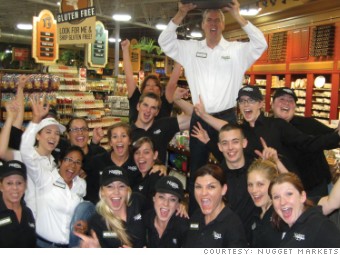 36
Rank
: 36
Previous rank
: 37
Annual revenue ($ millions)
: $280
What makes it so great?
This past summer the grocery chain took the entire staff whitewater rafting in the Sierra Foothills and staggered events so that everybody could come.
Headquarters:
Woodland, CA
Website:
www.nuggetmarket.com
Read Nugget Market's Great Rated! review
here
.
Network with Nugget Market
Jobs
% job growth (1 year)
6.8%
Job openings
(as of 1/2/14)
12
Most common job (salaried):
Store Director
$115,243
Most common job (hourly):
Checker
$40,917
Fully paid sabbaticals
No
Health
100% health-care coverage
Yes
Subsidized gym membership
No
Diversity
Has nondiscrimination policy
that includes sexual orientation?
Yes
Offers domestic partner benefits
for same-sex couples?
Yes
Professional training
Salaried employees (hrs./yr.):
143
Hourly employees (hrs./yr.):
30
From the February 3, 2014 issue