52 of 100
Credit Acceptance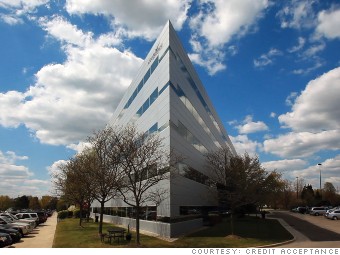 52
Rank
: 52
Previous rank
: New
Annual revenue ($ millions)
: $609
What makes it so great?
Staff see satisfaction in helping people down on their luck get auto financing. "We have changed the lives of thousands of people," said one.
Headquarters:
Southfield, MI
Website:
www.creditacceptance.com
Read Credit Acceptance's Great Rated! review
here
.
Jobs
% job growth (1 year)
11.5%
Job openings
(as of 1/2/14)
50
Most common job (salaried):
Market Area Manager
$90,790
Most common job (hourly):
Front End Collections
$38,660
Fully paid sabbaticals
No
Health
100% health-care coverage
No
Subsidized gym membership
No
Diversity
Has nondiscrimination policy
that includes sexual orientation?
Yes
Offers domestic partner benefits
for same-sex couples?
No
Professional training
Salaried employees (hrs./yr.):
70
Hourly employees (hrs./yr.):
70
From the February 3, 2014 issue