55 of 100
Cisco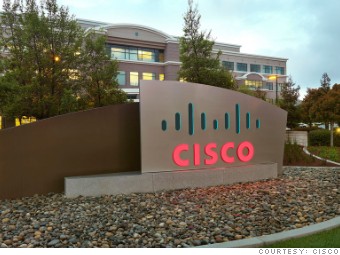 55
Rank
: 55
Previous rank
: 42
Annual revenue ($ millions)
: $46,100
What makes it so great?
Employees stay fit inside a 118,000-square-foot, gold-level LEED-certified health center and can drop off kids at two onsite care centers.
Headquarters:
San Jose, CA
Website:
www.cisco.com
Employees
Employees outside U.S.
34,899
Jobs
% job growth (1 year)
0.6%
Job openings
(as of 1/2/14)
3,200
Most common job (salaried):
Technical Leader I
N.A.
Most common job (hourly):
Software Engineer II
N.A.
Fully paid sabbaticals
No
Health
100% health-care coverage
No
Onsite fitness center
Yes
Subsidized gym membership
No
Diversity
Has nondiscrimination policy
that includes sexual orientation?
Yes
Offers domestic partner benefits
for same-sex couples?
Yes
Professional training
Salaried employees (hrs./yr.):
42
Hourly employees (hrs./yr.):
42
From the February 3, 2014 issue