60 of 100
Bingham McCutchen LLP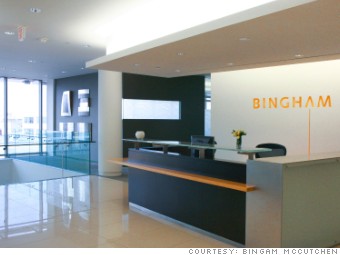 60
Rank
: 60
Previous rank
: 82
Annual revenue ($ millions)
: $872
What makes it so great?
In 2013 the law firm made history when it filed an amicus brief in the landmark U.S. Supreme Court case that overturned the Defense of Marriage Act.
Headquarters:
Boston, MA
Website:
www.bingham.com
Read Bingham McCutchen LLP's Great Rated! review
here
.
Network with Bingham McCutchen LLP
Employees
Employees outside U.S.
228
Jobs
% job growth (1 year)
-5.8%
Job openings
(as of 1/2/14)
16
Most common job (salaried):
Associate
$241,033
Most common job (hourly):
Legal Secretary
$80,388
Fully paid sabbaticals
No
Health
100% health-care coverage
No
Onsite fitness center
Yes
Subsidized gym membership
Yes
Diversity
Has nondiscrimination policy
that includes sexual orientation?
Yes
Offers domestic partner benefits
for same-sex couples?
Yes
Professional training
Salaried employees (hrs./yr.):
175
Hourly employees (hrs./yr.):
40
From the February 3, 2014 issue