88 of 100
Teach For America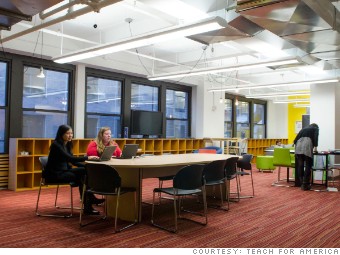 88
Rank
: 88
Previous rank
: 60
Annual revenue ($ millions)
: $318
What makes it so great?
The nonprofit has a liberal work-from-home policy, three weeks' vacation, and paid maternity leave.
Headquarters:
New York, NY
Website:
www.teachforamerica.org
Read Teach For America's Great Rated! review
here
.
Network with Teach For America
Employees
Employees outside U.S.
N.A.
Jobs
% job growth (1 year)
21.7%
Job openings
(as of 1/2/14)
100
Most common job (salaried):
Manager, Teacher Leadership Development
$53,178
Most common job (hourly):
Associate, Recruitment
$43,955
Fully paid sabbaticals
No
Health
100% health-care coverage
No
Subsidized gym membership
No
Diversity
Has nondiscrimination policy
that includes sexual orientation?
Yes
Offers domestic partner benefits
for same-sex couples?
Yes
Professional training
Salaried employees (hrs./yr.):
150
Hourly employees (hrs./yr.):
135
From the February 3, 2014 issue