4 of 500
Sinopec Group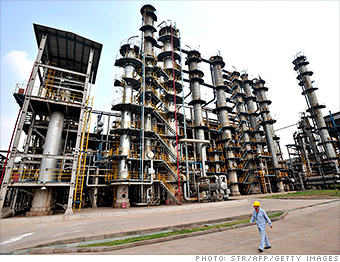 4
Rank
: 4
Previous rank
: 5
CEO
: Fu Chengyu
Employees
: 1,015,039
China's largest oil and gas producer moves up a notch on Fortune's Global 500 list. The company continues to grow despite peculiar circumstances -- it looks, in many ways, like a multinational, except it's exposed to the Chinese government's control over oil and gas prices.
Sinopec, also known as China Petroleum & Chemical Corp., posted a 25% increase in first-quarter net profits in April, beating out competitor PetroChina thanks to Sinopec's extensive distribution network in the country. It's also acquiring aggressively outside China -- this past June, Sinopec bought Marathon Oil's stake in an Angolan oil and gas field, which should boost its production by 14,600 barrels-per-day.
Headquarters:
22 Chaoyangmen N. St.
Beijing. 100728
China
86-10-5996-0114
Website:
www.sinopec.com
Key financials
$ millions
% change from 2011
Stockholder's equity
102,165
—
From the July 22, 2013 issue
Notes:
Government owned 50% or more.
Excise taxes have been deducted.