23 of 500
Daimler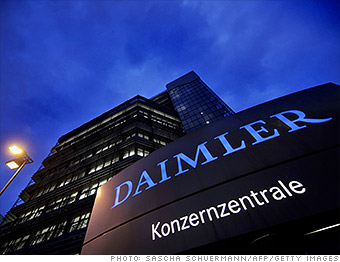 23
Rank
: 23
Previous rank
: 21
CEO
: Dieter Zetsche
Employees
: 275,087
The maker of Mercedes Benz is trying to power through Europe's financial woes. Flat profits for 2012 were followed by a disastrous first quarter when the German luxury automaker posted a 60% drop in net income and lowered its 2013 forecast. Chief Dieter Zetsche expects results to improve later this year as a massive cost-cutting effort lifts Daimler's bottom line. A revamped flagship Mercedes S-Class hits U.S. showrooms this fall, but it faces stiff competition from market leader BMW and a newly revived Audi.
Headquarters:
Mercedesstrasse 137
Stuttgart. 70327
Germany
49-711-17-0
Website:
www.daimler.com
Key financials
$ millions
% change from 2011
Stockholder's equity
57,841
—
From the July 22, 2013 issue
Notes:
Figures prepared in accordance with International Accounting Standards.