8 of 500
Toyota Motor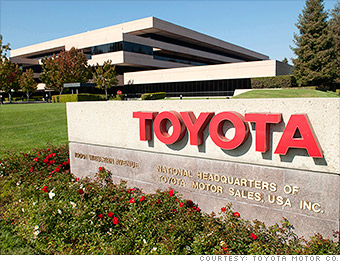 8
Rank
: 8
Previous rank
: 10
CEO
: Akio Toyoda
Employees
: 333,498
It's been a year of big comebacks for Toyota. The Japanese car company recaptured the title of world's largest automaker in 2012 after losing the crown to General Motors in 2011 when the earthquake and tsunami that struck Japan caused major production disruptions. Chief executive Akio Toyoda deserves most of the credit for the turnaround, with a major restructuring to make the automaker more nimble and responsive. The new Corolla is his latest attempt to inject a little zip into Toyota's line of reliable -- but largely unexciting -- vehicles.
Key financials
$ millions
% change from 2011
Stockholder's equity
129,234
—
From the July 22, 2013 issue
Notes:
Figures prepared in accordance with U.S. Generally Accepted Accounting Principles.
Figures are for fiscal year ended March 31, 2013.