Like this job? Now Like CNNMoney on Facebook for career tips, plus the latest business news and features on Personal Finance, the Economy, Markets, Technology, and more.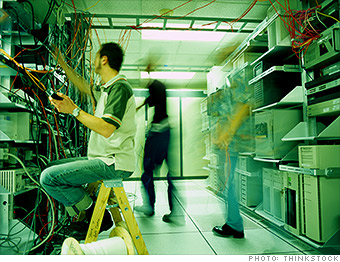 Median pay: $63,900
Top pay: $90,700
10-year job growth: 27.8%
Total jobs*: 347,200

What they do all day?
Systems administrators keep the office's computer systems up and running. They install, update, and troubleshoot computers and software programs. Tech-savvy and wise in the ways of Microsoft Windows and Apple's Mac OS, they're lifesavers for members of the office who don't know the difference between RAM and RAID.
--Jillian Anthony
Quality of life ratings
:
| | | | |
| --- | --- | --- | --- |
| Personal satisfaction | Low stress | Benefit to society | Flexibility |
| B | C | C | B |