Like this job? Now Like CNNMoney on Facebook for career tips, plus the latest business news and features on Personal Finance, the Economy, Markets, Technology, and more.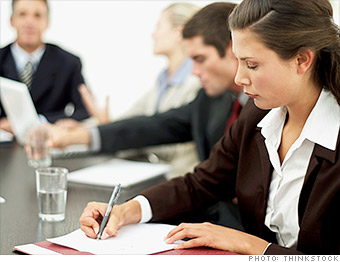 Median pay: $65,400
Top pay: $110,000
10-year job growth: 41.2%
Total jobs*: 282,700

What they do all day?
Business development associates are constantly looking for new ways to boost sales. It's up to them to forge new relationships with business clients, and maintain and build on existing ones. A strong "biz dev" associate is well-organized, a good communicator and is tuned into their client's needs.
--J.A.
Quality of life ratings
:
| | | | |
| --- | --- | --- | --- |
| Personal satisfaction | Low stress | Benefit to society | Flexibility |
| B | C | B | B |