Like this job? Now Like CNNMoney on Facebook for career tips, plus the latest business news and features on Personal Finance, the Economy, Markets, Technology, and more.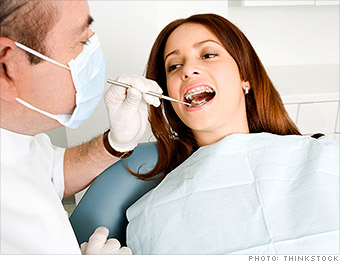 Median pay: $147,000
Top pay: $253,000
10-year job growth: 21.1%
Total jobs*: 130,700

What they do all day?
While it takes four years of dental school to get certified, the payoff is worth it. Dentists not only earn big bucks, they often set their own hours. It's a big plus to be your own boss in a relatively low-stress environment, especially if you like working with people.
--J.A.
Quality of life ratings
:
| | | | |
| --- | --- | --- | --- |
| Personal satisfaction | Low stress | Benefit to society | Flexibility |
| A | C | A | C |