Like this job? Now Like CNNMoney on Facebook for career tips, plus the latest business news and features on Personal Finance, the Economy, Markets, Technology, and more.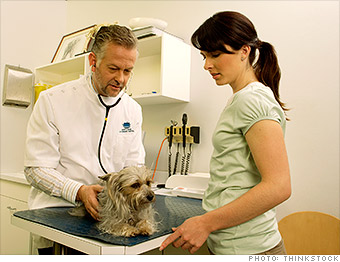 Median pay: $81,300
Top pay: $118,000
10-year job growth: 35.9%
Total jobs*: 61,400

What they do all day?
This hands-on job can be a dream for animal lovers. Vets are the lifesavers when Fido eats something bad off the street or Fluffy jumps off the roof. But it takes a strong stomach -- at times, the job requires vets to perform euthanizations and some other unpleasant tasks -- and a lot of schooling.
--J.A.
Quality of life ratings
:
| | | | |
| --- | --- | --- | --- |
| Personal satisfaction | Low stress | Benefit to society | Flexibility |
| B | C | A | C |