Like this job? Now Like CNNMoney on Facebook for career tips, plus the latest business news and features on Personal Finance, the Economy, Markets, Technology, and more.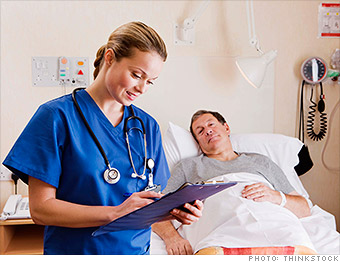 Median pay: $65,800
Top pay: $90,300
10-year job growth: 26.0%
Total jobs*: 2,737,400

What they do all day?
Becoming an RN can be very stressful and entail long hours, but the work can be quite rewarding. In hospitals, nurses care for people who are sick or injured by administering shots, IVs and catheters, dispensing medications and performing other tasks. Nurses also work in doctors' offices where they help patients fight and prevent illnesses and disease by assessing their health and maintaining records.
--J.A.
Quality of life ratings
:
| | | | |
| --- | --- | --- | --- |
| Personal satisfaction | Low stress | Benefit to society | Flexibility |
| B | D | A | C |