Like this job? Now Like CNNMoney on Facebook for career tips, plus the latest business news and features on Personal Finance, the Economy, Markets, Technology, and more.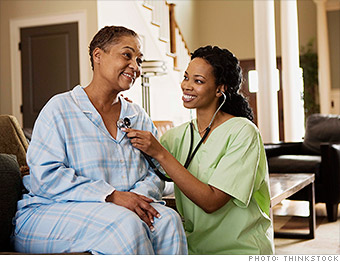 Median pay: $61,000
Top pay: $92,500
10-year job growth: 70.5%
Total jobs*: 861,000

What they do all day?
Home care nurses visit patients where they live, help provide medicine or therapy, and aid them in tasks they may not be able to complete by themselves.
--J.A.
Quality of life ratings
:
| | | | |
| --- | --- | --- | --- |
| Personal satisfaction | Low stress | Benefit to society | Flexibility |
| A | C | A | C |