Like this job? Now Like CNNMoney on Facebook for career tips, plus the latest business news and features on Personal Finance, the Economy, Markets, Technology, and more.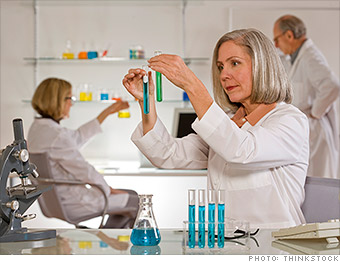 Median pay: $68,000
Top pay: $105,000
10-year job growth: 36.4%
Total jobs*: 100,000

What they do all day?
When a person has an illness, whether it's relatively mild like strep throat or serious like cancer, medical tests of organ, tissue, or cell samples are usually used to confirm it. Clinical laboratory specialists conduct those tests, as well as a variety of others, and analyze them. They can also evaluate the effect of drugs on certain diseases in order to come up with treatments.
--J.A.
Quality of life ratings
:
| | | | |
| --- | --- | --- | --- |
| Personal satisfaction | Low stress | Benefit to society | Flexibility |
| B | C | A | C |