Like this job? Now Like CNNMoney on Facebook for career tips, plus the latest business news and features on Personal Finance, the Economy, Markets, Technology, and more.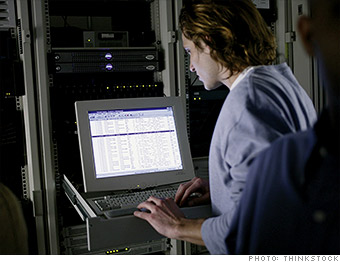 Median pay: $68,600
Top pay: $102,000
10-year job growth: 22.1%
Total jobs*: 544,400

What they do all day?
Most companies want their computers to be equipped with the latest software and hardware, the highest-speed internet connection and super-tight security. That's where a computer systems analyst comes in. They'll oversee the installation of the latest computer upgrades, as well as troubleshoot the day-to-day technical problems that pop up.
--J.A.
Quality of life ratings
:
| | | | |
| --- | --- | --- | --- |
| Personal satisfaction | Low stress | Benefit to society | Flexibility |
| B | C | C | C |