Like this job? Now Like CNNMoney on Facebook for career tips, plus the latest business news and features on Personal Finance, the Economy, Markets, Technology, and more.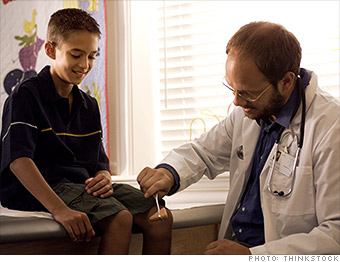 Median pay: $150,000
Top pay: $214,000
10-year job growth: 24.4%
Total jobs*: 691,000

What they do all day?
These doctors have to love working with kids. Pediatricians diagnose and treat children's diseases and injuries. From the day they are born till they are young adults, kids visit pediatricians' offices for annual check-ups and immunizations and the common colds, knee scrapes and stomach bugs that pop up along the way.
--J.A.
Quality of life ratings
:
| | | | |
| --- | --- | --- | --- |
| Personal satisfaction | Low stress | Benefit to society | Flexibility |
| A | C | A | C |