Like this job? Now Like CNNMoney on Facebook for career tips, plus the latest business news and features on Personal Finance, the Economy, Markets, Technology, and more.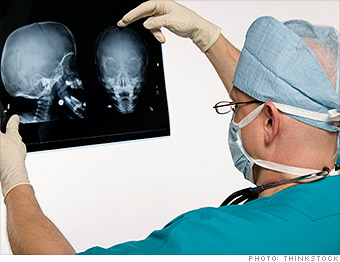 Median pay: $368,000
Top pay: $643,000
10-year job growth: 24.4%
Total jobs*: 691,000

What they do all day?
Neurosurgeons diagnose and treat disorders of the brain, spinal cord and the central nervous system. It is a highly skilled (and highly stressful) profession that sometimes involves saving patients' lives. When they aren't with patients, some neurosurgeons take to the classroom to teach medical students.
--J.A.
Quality of life ratings
:
| | | | |
| --- | --- | --- | --- |
| Personal satisfaction | Low stress | Benefit to society | Flexibility |
| A | D | A | C |