Like this job? Now Like CNNMoney on Facebook for career tips, plus the latest business news and features on Personal Finance, the Economy, Markets, Technology, and more.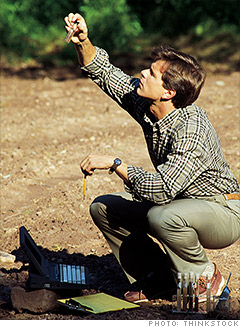 Median pay: $65,400
Top pay: $119,000
10-year job growth: 21.2%
Total jobs*: 33,800

What they do all day?
Geologists are like earth detectives. They collect soil to analyze its mineral makeup and find ground water. Lately, some geologists have raised red flags over soil pollution caused by hydraulic fracturing, a relatively new technology used to release natural gas and oil.
--J.A.
Quality of life ratings
:
| | | | |
| --- | --- | --- | --- |
| Personal satisfaction | Low stress | Benefit to society | Flexibility |
| B | C | B | C |