Like this job? Now Like CNNMoney on Facebook for career tips, plus the latest business news and features on Personal Finance, the Economy, Markets, Technology, and more.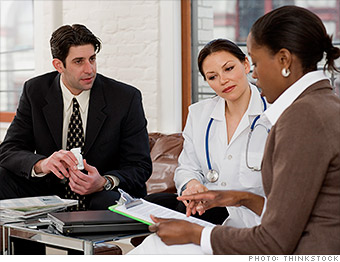 Median pay: $97,400
Top pay: $171,000
10-year job growth: 18.1%
Total jobs*: 4,151,900

What they do all day?
Health-care consultants counsel medical organizations and hospitals on the efficiency of their operations. They also create manuals and help to streamline procedures so their systems run more smoothly and cost-effectively.
--J.A.
Quality of life ratings
:
| | | | |
| --- | --- | --- | --- |
| Personal satisfaction | Low stress | Benefit to society | Flexibility |
| B | C | B | B |