Like this job? Now Like CNNMoney on Facebook for career tips, plus the latest business news and features on Personal Finance, the Economy, Markets, Technology, and more.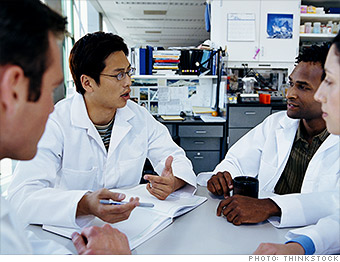 Median pay: $81,800
Top pay: $121,000
10-year job growth: 15.5%
Total jobs*: 1,228,800

What they do all day?
Research scientists investigate everything from chemical reactions to aging. They conduct experiments and publish the findings -- both in academic journals, as well as popular media. One of the trickiest parts of the job: In order to get their research funded, they typically have to write grant proposals and dig up funding.
--J.A.
Quality of life ratings
:
| | | | |
| --- | --- | --- | --- |
| Personal satisfaction | Low stress | Benefit to society | Flexibility |
| B | C | B | B |