Like this job? Now Like CNNMoney on Facebook for career tips, plus the latest business news and features on Personal Finance, the Economy, Markets, Technology, and more.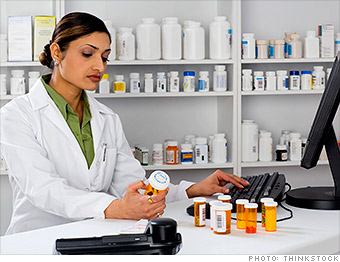 Median pay: $114,000
Top pay: $133,000
10-year job growth: 25.4%
Total jobs*: 274,900

What they do all day?
After six to eight years of post-high school study to earn the required doctorate, pharmacy graduates aren't likely to want for a job: Demand for pharmacists is continually high (almost everyone needs to fill a prescription eventually). Once established, your friendly neighborhood pharmacist takes in around $100,000 to keep your medicine cabinet stocked safely and effectively.
--J.A.
Note: Pharmacists' education and job duties were clarified from an earlier version of this profile.
Quality of life ratings
:
| | | | |
| --- | --- | --- | --- |
| Personal satisfaction | Low stress | Benefit to society | Flexibility |
| B | C | B | C |