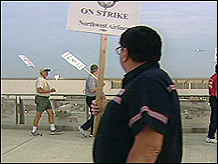 Northwest Airlines union mechanics see no progress in a labor dispute. Rod Meloni from CNN affiliate WDIV reports (August 21)
Play video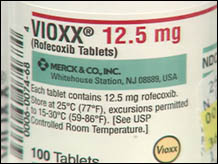 The Texas jury awards $253 million in damages. CNN's Allan Chernoff reports on the first lawsuit involving Vioxx. (August 19)
Play video

NEW YORK (CNN/Money) - Stocks ended moderately higher but well off their highs Monday after rising oil prices wiped out a morning rally.
The Dow Jones industrial average (up 10.66 to 10,569.89, Charts) and the broader Standard & Poor's 500 (up 2.02 to 1,221.73, Charts) both gained a few points.
The tech-heavy Nasdaq composite (up 5.85 to 2,141.41, Charts) climbed 0.3 percent. All three indexes had posted bigger gains in morning trading.
As of 6:00 p.m. EST, Nasdaq and S&P 500 futures pointed to a mixed open for the stock market Tuesday, when fair value is taken into account.
Several analysts said the morning rally was mostly a technical bounce after a hard week, which had little staying power in the face of rising oil prices.
"M&A propelled the market earlier," added Peter Cardillo, chief market analyst at SW Back & Co. "But an upward move in oil above $66 took the wind out of the market in the absence of economic news."
Light sweet crude oil for September delivery settled up 10 cents at $65.45 a barrel on the New York Mercantile Exchange after briefly trading above $66. High oil prices are usually bad for stocks outside the energy sector as they can shrink corporate profits and hurt consumer spending.
Investors are also looking ahead to Tuesday, when the July existing home sales report will be released.
On the move
According to a report Monday, Research in Motion (Research) agreed to supply battery-saving technology it owns to Intel (Research) for use in an Intel chipset. In return, Intel has agreed to supply the maker of Blackberry with chips for use in unspecified products. Shares of Intel and Research in Motion both rose in after-hours trading.
The shares of Amylin Pharmaceuticals (Research) and Alkermes (Research) also surged in extended trading Monday after the drug makers announced positive results in a study of one of their joint diabetes treatments.
And after the closing bell, Citigroup (Research) announced a "senior management realignment," saying its global consumer group will be co-headed by Ajay Banga and Steven Freiberg, and that Kevin Kessinger had been appointed head of operations & technology.
The investment bank's stock edged lower on the Inet electronic brokerage from its close at $44.20 on the New York Stock Exchange.
Northwest (up $0.28 to $5.66, Research) shares jumped over 5 percent in afternoon trading as many analysts said the nation's No. 4 airline has felt little impact from a strike by its mechanics that started Saturday. With other organized workers crossing picket lines, the battle is being considered a victory for the airline and a blow to labor.
Shares of Florida Power & Light, the utility unit of FPL Group (up $1.51 to $42.41, Research), rose nearly 4 percent after the utility said it signed a settlement with Florida's Attorney General and other groups, eliminating a proposed $430 million rate hike.
Procter & Gamble (up $0.62 to $55.16, Research) was one of the Dow's biggest gainers in afternoon trade after a story in Barron's said the consumer goods maker's stock is trading at a steep discount to its real value. Gillette (up $0.74 to $53.52, Research) shares also rose on the New York Stock Exchange.
And Heinz (up $0.39 to $36.69, Research) shares moved higher after the king of condiments said first-quarter profit fell due to weak demand in parts of Europe, but maintained its profit outlook.
On the other side of the ledger, Merck (down $0.17 to $27.89, Research) shares sank again Monday after Friday's 8 percent drop as Wall Street chewed on the $253 million verdict against the Vioxx maker and what the court's decision will mean for the pharmaceutical sector.
Shares of Merck rivals GlaxoSmithKline (up $0.09 to $48.30, Research), Novartis (down $0.06 to $49.00, Research) and Pfizer (down $0.19 to $25.36, Research) also edged lower on the news.
"We'll see an avoidance of major pharma, maybe with a move toward medical technology and biotech," said David Briggs, head of equity trading at Federated Investors.
"Look at Philip Morris. Its stock value was depressed for a long time on litigation risks, but after all these years the value has finally come through," Briggs said.
In other corporate news, Panacos Pharmaceuticals (up $3.25 to $10.30, Research) shares surged nearly 50 percent after the biotechnology company said its experimental HIV drug reduced the level of the virus in the blood by 90 percent.
Merger Monday
The long-running takeover battle for Maytag Corp. (down $0.02 to $18.69, Research) came to an end Monday afternoon, with Whirlpool (down $0.35 to $81.48, Research) winning the bid for the rival appliance maker after Ripplewood Holdings decided not to increase its offer. Maytag and Whirlpool shares both edged lower following the news.
China National Petroleum also said Monday it has agreed to buy Canada's PetroKazakhstan (up $8.35 to $53.75, Research) for about $4.2 billion, sending PetroKazakhstan shares up more than 18 percent. If the deal goes through, it will be China's largest foreign acquisition.
OSI Pharmaceuticals (down $8.85 to $31.92, Research) shares fell after it said it has agreed to buy Eyetech Pharmaceuticals (up $4.14 to $18.13, Research), a maker of treatments for eye diseases, for $935 million. Eyetech shares rallied nearly 30 percent on the news.
TV broadcaster SBS Broadcasting agreed to be bought for $2.6 billion by private investment firms Permira and Kohlberg Kravis Roberts. Liberty Global (up $0.45 to $48.65, Research), SBS Broadcasting's largest shareholder, saw shares edge higher.
Germany's TUI AG has offered to buy CP Ships Ltd. (up $1.59 to $21.19, Research), a container-shipping business with operations in Canada, for $2 billion. The deal will create the world's fifth-largest container shipping company.
And a published report said three parties were interested in buying media company Dow Jones (up $2.82 to $42.01, Research), whose shares rose more than 6 percent in afternoon trading.
The Business, a British financial publication, reported over the weekend that News Corp. (up $0.15 to $17.56, Research), New York Times Co. (up $0.59 to $32.70, Research) and Gannett Co. Inc. (up $0.61 to $73.95, Research) had set their sights on the company.
Market breadth was positive. Winners beat out losers on the New York Stock Exchange as 1.2 billion shares changed hands. Meanwhile, advancers edged out decliners on the Nasdaq as 1.4 billion shares were traded.
Volume is typically lower in August, which makes for exaggerated trading moves.
Treasury prices barely budged with the yield on the 10-year note at 4.21 percent. The dollar lost ground against the euro and the yen.
COMEX gold gained 80 cents to $443.00.
Major markets in Asia closed higher Monday, as foreign investors poured money into Tokyo stocks on signs of a turnaround in Japan's banking sector, while European markets ended flat.
____________________
Are the worst two months on tap for stocks? Click here for more.
Inflation? It's dead, right? Click here for more.
Will high gasoline prices mean a blue Christmas for holiday shoppers? Click here for more.
Click here for today's hot stocks.