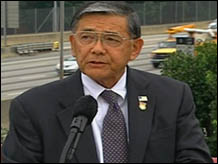 Transportation secretary Norman Mineta announces new fuel economy rules. CNN's Gary Tuchman reports. (August 23)
Play video

NEW YORK (CNN/Money) - Gas prices keeps hitting records and people are looking for a place to vent their frustration.
Nationwide average price for a gallon of regular unleaded hit $2.61 Monday, up 39 percent in the past year, according to AAA.
CNN/Money invited readers to write in and share stories about how they are coping.
"You know gas prices are bad when my husband's Porsche 911 is our economical car!" one reader wrote. "The other being 9.9 miles to the gallon, Lincoln Navigator!"
Another said things weren't all bad: "I cook out in the backyard more to save on cooking gas. Maybe all of this has an upside though -- we spend much more time together as a family."
Here's a sampling of other responses:
Hitting the pocketbook
"I am a waitress and my husband works at a lumber yard. He commutes 35 miles round trip every day, 5 days a week. I work at a huge truck stop. Not only are we paying a lot more for gas, my tips are suffering badly. Truck drivers are paying sky-high prices for diesel and guess what, leaving a tip for dinner is an option that they are choosing to do away with. I'm paying more for groceries and everything else, and making less money."

"I am looking for a part time job near my main job just to pay for gas. I got a $1.10/hr raise and I eat that up going back and forth to work. I am trying to save for a house. Now I put my savings into the tank!"
Two wheels, not four
"I stopped driving to work everyday and started biking. I'm only a couple miles from my office; I should have started long ago." -- Dan W.

"The current gas situation has caused me to park my Dodge pickup and take my motorcycle just about everywhere I go. You would be quite surprised how many groceries you can carry on a bike! And it is a sight to see a nurse in uniform riding a Harley Davidson home in the morning." -- Darcel D.
Changing habits/cutting back
"Due to these escalating gas prices I've had to drastically change our spending patterns as well as discontinue certain habits (Cigarette smoking was nixed a month ago!)."

"Since I receive education benefits under the GI Bill from military service, I wanted to attend the University of Oklahoma which is at least a 45 minute drive that I would have to make daily. So we decided that I will attend the local commuter college that is only 7 miles roundtrip from my home."

"Our weekends are now spent at home instead of going to the movie theaters. Now when we go to the grocery store to do our weekly shopping we make sure we buy plenty of microwaveable popcorn. We order movies from the cable company's in-demand service to avoid having to drive to the local Blockbuster video." -- Brian P.
Check back for more reader responses. And send us your story at gasprices@cnn.com.
------------------------
Click here for some safe cars that save on gas.
Click here to read about the new fuel economy rules.