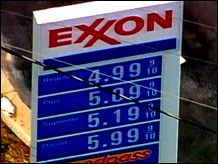 Despite a drop in oil prices, the cost of gasoline in the US continues to surge. CNN's Bill Tucker reports (September 6)
Play video

NEW YORK (CNN/Money) - Oil futures lost more than a dollar Thursday after a morning report showed a smaller-than-expected drop in petroleum stockpiles following major disruptions in the wake of Hurricane Katrina but rebounded to end the session higher.
U.S. light crude for October delivery traded as low as $63.10 a barrel immediately after the government report was released, but made up those losses to settle 12 cents higher at $64.49 a barrel on the New York Mercantile Exchange
Gasoline futures also tumbled immediately after the 10:30 a.m. ET report, falling as low as $1.96 a gallon on the NYMEX, but they turned around to end the trading session 2 cents higher at $2.04 a gallon.
Crude stocks fell by 6.4 million barrels, gasoline stocks fell by 4.3 million barrels and stocks of distillates decreased by 800,000 barrels, according to the Energy Information Administration.
Analysts were looking for a drop of 6.4 million barrels of crude, 6.2 million barrels of gasoline and 2.6 million barrels of distillates, according to Reuters.
Despite the larger-than-usual drop caused by Hurricane Katrina, crude supplies remain well above the upper end of the average range for this time of year, the EIA said.
But gasoline stocks are at their lowest point since November 2000, below the bottom level of the average range.
Doug MacIntyre at the Energy Information Administration said gasoline stocks may have come in above estimates because people were expecting the worst following the storm.
MacIntyre also said many people forgot that in addition to refineries being shut, pipelines were also out of operation.
"There was a lot of product that just didn't have any place to go," he said.
The slide in crude prices continues the trend of the last several days.
Oil has now lost more than $6 since hitting an all time trading high of $70.85 on NYMEX Aug. 30, the day after Hurricane Katrina slammed into the Gulf Coast, killing hundreds or perhaps thousands, flooding New Orleans and causing widespread destruction in Louisiana and Mississippi.
Hard hit were oil platforms and pipelines in the Gulf of Mexico and refineries onshore. The Gulf accounts for one quarter of all U.S. domestic oil production and has the country's only deep water port for oil imports.
The Department of Energy said 57 percent of oil production in the Gulf of Mexico was still offline as of Wednesday, although that is down from 95 percent the day after the storm.
DOE estimates that fuel production and distribution in the area won't be back to normal until December.
The DOE also said four of the ten refineries impacted by the storm remain offline, and MacIntyre said people were using a shutdown of three months following a previous storm as a timeline for the recovery from Katrina.
Prices have fallen over the last several days as refineries came back online sooner than expected and the International Energy Agency released around 60 million barrels of products from the reserves of its 26 members worldwide, including 30 million barrels of crude from the U.S. Strategic Petroleum Reserve.
But traders were especially watching the gasoline component of the report, as most of the reserves from IEA are in the form of crude and the storm worsened an already tight supply of refined products worldwide that has helped push U.S. gasoline prices up over 65 percent in the last year.
Gasoline prices hit consumers directly and can limit their spending, which accounts for two thirds of U.S. economic activity.
Economists warned Wednesday that the economic fallout from Katrina could cost 400,000 jobs and shave up to 1 percent off the country's gross domestic product in the second half of 2005, largely due to rising energy prices.
_______________________________________
$3 gas -- is it here to stay? Click here.
Businesses withstand rising energy costs. Click here.