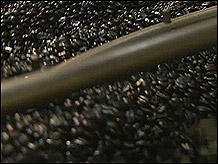 Hurricane Katrina will force the prices of housing, coffee, food and energy upward. CNN's Ali Velshi reports (September 6)
Play video

NEW YORK (CNN/Money) - Will the aftermath of Hurricane Katrina send the economy into a slowdown or will it lead to higher inflation -- or both?
With oil and gasoline hovering not far from record highs, many economists are concerned about an energy-price induced soft patch. To that end, there have been increased calls for the Federal Reserve to pause when it meets on Sept. 20 instead of raising interest rates for the 11th consecutive time.
But some say that the spike in gas prices and other disruptions following Katrina could lead to upward pressure on prices across the economy as well. So even if the Fed doesn't boost short-term rates at its next meeting, it may resume later in the year in a bid to ensure that inflation remains in check.
"There will be some clear near-term inflation effects because of higher energy prices," said Keith Hembre, chief economist with First American Funds in Minneapolis, adding that the impact of Katrina on prices of other goods and services could be felt for six months to a year.
Another economist noted that the threat of a pickup in inflation is just as great after Katrina, even though many investors are more worried about a slowdown.
"The markets have forgotten two lessons from prior natural disasters," Lehman Brothers economist Ethan Harris wrote in a report this week.
"The national economy usually weathers these storms with relatively minor damage. Second, the hurricane is a 'supply shock' -- a disruption to productive potential -- not a 'demand shock.' The same factors that threaten growth -- higher commodity prices, shipping bottlenecks, reduced local productive capacity -- also threaten inflation," Harris added.
One market strategist said that rebuilding in Louisiana and Mississippi over the next few months could also lead to a pickup in economic growth, and hence, higher labor costs and upward pressure on prices.
"The Fed is still looking at inflation. Katrina is certainly going to have some negative impact on the economy but longer-term Katrina will be a positive as we rebuild the Gulf area," said Brian Stine, investment strategist with Allegiant Asset Management in Cleveland.
Solid footing, pre-Katrina
But some recent reports indicate that inflation is becoming more of a cause for concern, even before the impact of Katrina.
According to the government's revised figures for productivity in the second quarter, released Wednesday, unit labor costs rose 2.5 percent, up from the Labor Department's earlier estimate of 1.3 percent.
Wage increases are often viewed as one of the key signs of inflation by economists since more purchasing power for consumers could lead to higher prices for goods and services.
And according to the Fed's "Beige Book" of regional business conditions, which was also released Wednesday, energy companies in eight of the Fed's twelve districts were able to pass on some of their prices to consumers. The Fed added, however, that "except for energy, overall consumer price increases were modest."
Granted, that snapshot examined economic activity from mid-July through August, which was before Hurricane Katrina slammed into the Gulf Coast.
But if energy prices don't fall significantly further any time soon, it will be tougher for businesses to keep eating the cost of higher commodity prices, said Bill Davison, managing director of fixed-income for Hartford Investment Management.
"The longer you see energy prices at these levels, the more likely it seeps into broader measures of inflation," Davison said. "Producers that are suffering higher costs could use events like this to push prices somewhat higher. This almost gives them an excuse to raise prices."
With that in mind, two key measures of inflation that will be released next week will be important to watch.
On Tuesday, the producer price index (PPI) figures for August are due out. The PPI measures prices at the wholesale level. Economists are expecting a 0.7 percent increase in PPI and a 0.1 percent increase in the so-called core number, which excludes food and energy costs.
And on Thursday, the consumer price index (CPI) numbers for August will be in the spotlight. Economists are predicting a 0.5 percent increase in the headline CPI number and 0.2 percent increase in the core figure.
Stine at Allegiant Asset Management said that the PPI and CPI reports may take on even greater significance over the next few months in terms of gauging inflation. That's because monthly employment reports, which tend to be volatile to begin with, could be even more so during the next few months because of the hurricane.
"The jobs numbers are going to be meaningless for the next few months. You'll have Katrina as a big asterisk," Stine said. "So the Fed will be flying blind a little bit."
Davison agreed with that assessment, adding that the Fed should resist the urge to pause even though many think that it should in the wake of Katrina.
"The jobs numbers will be less reliable. If they are stronger, people will say it's because people had to hire more workers because of Katrina and it's only temporary. And if it's weaker people will also say that it's Katrina-related," Davison said. "The Fed's job has just gotten harder."
Will Katrina make Greenspan pause? Click here for more.
For more on the how soaring oil prices from Katrina have given the Fed a crude awakening, click here.