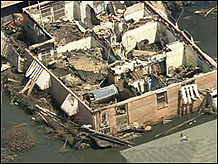 Property distressed by Katrina is seen by some as an investment opportunity. CNN's Lisa Sylvester reports. (September 17)
Play video

NEW YORK (CNN/Money) - In a matter of hours, Hurricane Katrina caused billions of dollars in property damage. Yet at a time when survivors are in the greatest need, the task of filing a claim for life insurance can be a daunting one.
With life insurance policies destroyed in the storm and death certificates hard to come by, policy holders may find themselves overwhelmed and confused as to how to obtain their benefits.
So far, life insurers such as MetLife (Research) and State Farm Life -- which have some of the highest exposure to the affected region -- have received only a handful of life insurance claims in the wake of Hurricane Katrina, according to spokesmen for the two companies.
If you're interested in making a claim with your life insurer, here are some things to keep in mind:
Lack of documents
One of the biggest concerns among potential claimants is the lack of proper documentation. But insurance experts say that victims can obtain the money they're entitled to even if they no longer have the policy or are unable to produce a death certificate.
"While a death certificate is standard, there are acceptable alternate means in extraordinary circumstances like this," said Jack Dolan, a spokesman for The American Council of Life Insurers.
Dolan said an affidavit from a funeral home director, an affidavit from surviving family members, hospital records or a statement from a physician could be accepted in lieu of a traditional death certificate.
And for those seeking disability benefits in the wake of Katrina, a letter from a physician or the hospital where you were treated for your injury is the best way to get your claim moving.
He added that life insurers are prepared to verify an individual policy without the policy number as long as claimants can provide basic information on the policy holder.
Most insurance companies have toll-free lines set up for Hurricane Katrina victims and are opting to be more liberal with paying out policies in the absence of proper documentation to make sure claimants receive their funds, Dolan said.
Look into cash loans against the policy
With individuals struggling to find work and in a cash crunch, some insurers, such as New York Life, are offering customers emergency loans against the cash value of a current policy. The company said in a statement that the loan is aimed at those who need help in recovery and rebuilding and advised policy holders to contact the company even if their policies have been lost or destroyed.
Keep in mind, however, that these loans aren't available in a standard term-life policy, said Steven Weisbart, economist at the Insurance Information Institute. Policy holders with a cash-value life insurance policy accrue cash based on the premiums they pay. Unlike a bank loan, they can borrow against that money without providing any security or credit information.
But it does have to be paid back with interest. And if the policy holder dies before the loan is paid off, the beneficiary will receive the death benefit minus the amount that was owed on the loan, Weisbart added.
Don't forget your employee benefits
For those that don't have individual life insurance policies, don't forget to look into any group life policies you may have through your employer. Group life policies are an area that can be overlooked in a crisis -- often because a policy holder isn't sure of which insurance company provides the policy -- but can provide some financial relief.
Employers are usually the best source of information when it comes to finding out the terms of your policy. But if you're unable to reach your employer or co-workers and are unsure of the group life insurance provider, ACLI's Dolan recommended talking to the state insurance department. Many insurance companies are reaching out to employers and while it may a take a while longer to match the provider with the employee, a little perseverance could make all the difference.
Don't cheat
While insurance companies are choosing to err on the side of paying out claims without strict documentation, don't expect a hand out.
John Calagna, a spokesman for MetLife, said the company will follow up on claims that are paid out and if there's any evidence of fraud, the company will take action.
"We're treating the Hurricane Katrina disaster the same way we treated the aftermath of 9/11," he said. "There were some who took advantage after Sept. 11 and they were caught. We'll look at anything that appears to be questionable in this case as well."
-----------------------------------------------------------------------
To find out what every Hurricane Katrina victim needs to know, click here.
Need to sort out your home insurance claim? Click here.