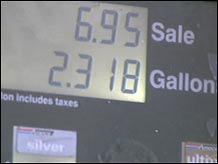 CNN's Ali Velshi says the holiday season economic forecast, pressed by rising energy and food prices, looks gloomy. (October 17)
Play video

NEW YORK (CNN/Money) - Gasoline prices fell by nearly 2 cents a gallon Wednesday while diesel prices edged higher, according to a daily report issued by the travel club AAA.
The average nationwide price for a gallon of regular unleaded gasoline dipped to $2.723 from $2.742 a gallon Tuesday, AAA reported.
A year ago, the average cost of a gallon of regular unleaded gasoline was nearly 71 cents cheaper at $2.014, according to AAA.
Gas prices peaked at $3.057 on Labor Day in the wake of Hurricane Katrina, when oil production platforms and refineries were knocked off-line and some analysts began to worry about gasoline shortages.
As of Tuesday, as much as 65.5 percent of the Gulf of Mexico region's normal 1.5 million barrels per day (bpd) production remained off-line due to hurricanes Katrina and Rita, the U.S. Minerals Management Service said in its latest report.
Meanwhile, AAA's "Daily Fuel Gauge Report" also revealed that the average nationwide price for diesel edged higher by a fraction of a cent to $3.196 a gallon from $3.192 Tuesday.
This time last year, diesel prices averaged $2.189 a gallon, the travel club reported.
Hawaii still has the most expensive gas in the country, with the average cost of regular unleaded at $3.448 a gallon; and gas in Oklahoma was the cheapest, with regular unleaded averaging $2.347 a gallon, AAA said.
Facing a weakened energy supply, the Bush administration has announced a conservation campaign and the President has urged Congress to draft a bill that would allow for the construction of new refineries and ultimately alleviate recent high gas prices.
Demand for gasoline within in the U.S., however, has weakened, averaging 8.8 million bpd, or 2.4 percent below last year, according to a government report released Thursday.
-- from staff and wire reports
_____________________
Tell us your story: Have rising gas prices forced you to cut back spending? Have you endured long lines when filling up? We'd like to hear your story for an upcoming feature. E-mail us at gasprices@cnn.com.
_____________________
Click here for CNN/Money's special report 'Oil Crunch 2005.'
Will rising energy prices squeeze the consumer or corporate America? Click here for more.