Building your first business Web site
Advance planning will help you ensure that your tech investments pay off.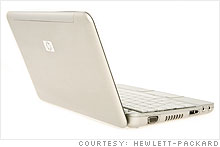 Ask FSB
Get small-business intelligence from the experts. Here's a chance for YOU to ask your pressing small-business questions, and FSB editors will help you get answers from the appropriate experts.
(FORTUNE Small Business) -- Dear FSB: I want to take my business online but I am not sure of the best way to do that. Is it better for a small business to run its own Web site or to pay a company to do it?
- Michael Russano, New York City
Dear Michael: The United States alone had 216 million Internet users at the end of 2007, according to Nielsen/NetRatings - meaning you have a couple hundred million good reasons to take your business online.
There are several factors to consider when establishing a Web presence, including the type of business, what you want to do online, and your level of technical savvy, says Robert Monroe, who co-coordinates the business and technology program at Carnegie Mellon's Tepper business school. He suggests first asking yourself these basic questions:
Why do you want to be on the Internet?
What kind of image do you want to present to your customers?
What you want people to be able to do when they visit your site?
"If you start with a set of plans and a goal and you understand why you're doing it, you're likely to get results that are more in line with what you're hoping to achieve," Monroe says.

Then comes the matter of what to do yourself and what to hire others to tackle.
Unless your Web-based business has unusual needs, hosting should be outsourced - providers are inexpensive and can likely give better service, performance and reliability than you can deliver for yourself. Also, hire out the payment process, which is difficult to get right. Options include Google (GOOG, Fortune 500) Check Out, eBay's (EBAY, Fortune 500) PayPal or your bank's credit-card processing system.
Designing an effective and professional-looking Web site takes skill. Web hosting firms usually offer templates for do-it-yourself Web sites, which may be acceptable if, say, a company is only trying to attract new customers to its physical store.
However, if you are counting on Web sales, hire an expert to build the site, Monroe recommends: "You're almost certainly better off running your own business and hiring somebody to do the Web side for you," Monroe says.
To find the right Web designer, Frank Farris, CEO of Atlanta Web-design firm Deep Blue, recommends evaluating three to five companies and then getting competitive bids. Also, pay attention to a company's Web site to see if their look suits your sensibilities. Rather than just seeking the cheapest supplier, go for the best quality at the best price, Farris says.
"Your Web site is going to be a key marketing component of your business," Farris says.
Dakin Farm, a purveyor of cured and cooked meats, cheese, and maple syrup with two stores in Vermont, jumped into the Net in 1995 - a natural move for a company with a large direct-mail business, says its president, Sam Cutting IV.
Visitors to Dakinfarm.com are treated to a visual feast of available food, from baby-back ribs (set out on a wooden kitchen table) to the golden maple syrup (poured over a stack of pancakes mottled with blueberries). The left-hand sidebar lists product categories such as "bacon," "sausage," and "appetizers," and a link to recipes.
The company staff - usually 24 employees, but up to 150 during the Christmas rush - monitors the site and can make alterations such as price changes, says Cutting. Dakin Farms had a lot of help in the beginning: The company brought in an outside firm to design the site and to develop the shopping engine.
Building a site is just the beginning.
"Don't forget to save some money for ongoing site traffic improvements," Cutting says. He employs a search optimization company to make Dakin Farm easier to find.

To write a note to the editor about this article,
click here
.



My dream is to launch my own business someday. Now that it's time to choose a major, I'm debating if I should major in entrepreneurial studies or major in engineering to acquire a set of skills first. Is majoring in entrepreneurship a good choice?
More
- Spate, Orange, Calif.

More Small Business

Next Little Thing 2010