Scrimping on your salary? Beware an audit
Ask FSB's experts explain when it's illegal for business owners to take only dividends.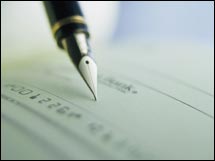 Ask FSB
Get small-business intelligence from the experts. Here's a chance for YOU to ask your pressing small-business questions, and FSB editors will help you get answers from the appropriate experts.
(FORTUNE Small Business) -- Dear FSB: My wife and I are owners of a small, incorporated business. We are the sole officers of the corporation. Will we come out ahead financially by removing ourselves from the corporate payroll (i.e., avoiding the corporate payroll taxes) and paying ourselves strictly by way of dividends?
- Bryon Sidwell, Indianapolis
Dear Bryon: Be careful. Removing yourself from the corporate payroll and paying yourself through only through dividends is actually illegal, and it may result in an audit of your business.
"You have to take a salary before you take dividends," says Michael Sackett, CEO of California-based Michael Sackett & Associates, Inc. No doing so is not only illegal, but is also highly inappropriate for a corporation, he says.
What the IRS looks for
The biggest ongoing IRS audit is of S-corps whose owners fail to pay themselves through salaries, says Ronald Hixon of E. Ronald Hixon, P.C., a Philadelphia business accounting tax and payroll services firm.
As an officer of a corporation, you have to pay yourself an amount of money equivalent to what it would cost to hire someone with a similar set of skills to perform your job, he says. To find out how much you're worth, check out Salary.com.
Once you have paid yourself at least the minimum amount that it would take to replace you, you can then have as high of a dividend as you'd like, says Hixon.

To write a note to the editor about this article,
click here
.



My dream is to launch my own business someday. Now that it's time to choose a major, I'm debating if I should major in entrepreneurial studies or major in engineering to acquire a set of skills first. Is majoring in entrepreneurship a good choice?
More
- Spate, Orange, Calif.

More Small Business

Next Little Thing 2010