Mortgage delinquency on the rise
Outlook for delinquencies worsens as lower home prices create cycle of increasing defaults.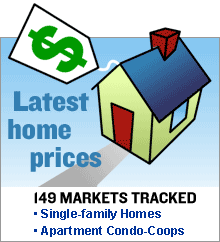 NEW YORK (CNNMoney.com) -- Mortgage delinquencies will continue to rise over the next six to 12 months as home prices decline and economic conditions remain difficult, according to one forecast released Monday.
The Core Mortgage Risk Monitor (CMRM), an index of foreclosure risk compiled by real estate data analyzer First American CoreLogic, increased 16% compared with the same period last year.
CoreLogic analyzes house price trends, foreclosure rates, economic health factors and fraud propensity to predict the chances that future mortgage delinquencies will occur.
The index, which has increased over the last four quarterly reporting periods, is now 47% higher than it was in the first quarter of 2002 when the last recession was winding down.
Nationwide, the markets with highest levels of delinquency risk also had double-digit declines in home prices and weakening labor markets.
"House price depreciation factors are now outweighing economic stress factors," said Mark Fleming, CoreLogic's chief economist.
Of the top 10 markets with the highest risk of delinquency, eight are in California and two are in Florida. Previously, markets in states like Michigan and Ohio, where the labor market has been weak, dominated the list of most delinquency-prone markets.
But rapidly declining home prices, particularly in places like California and Florida where speculative buying drove prices up during the housing boom, are causing a shift in the nation's mortgage delinquency trends.
CoreLogic forecasts delinquency-risk to be worst in California's Inland Empire region, where home price appreciation has declined more than 21%. Elsewhere in the golden state, the Los Angeles and Sacramento areas are considered high risk for delinquencies.
Meanwhile, urban centers in Texas are expected to have a low risk of delinquency. The Dallas-Fort Worth area tops the list, followed by Tulsa, Okla.
During the same time period last year, Detroit, Mich., led the nation in delinquency risk. In Ohio, Youngstown, Dayton and Toledo were also on the list of high-risk markets. Conversely, Phoenix, Ariz., and West Palm Beach Fla., were among the cities with the lowest risk of delinquencies last year.
"High house price markets are now high risk markets," said Fleming.
Falling home prices have created a vicious cycle: Lower prices lead to more defaults, resulting in excess inventory, which causes demand to fall, bringing home prices even lower, leading to more defaults.
This downward cycle puts pressure on the broader economy, with declining home prices impacting personal wealth and consumer confidence.

Features

These Fortune 100 employers have at least 350 openings each. What are they looking for in a new hire? More

It would be the world's second-biggest economy. See how big companies' sales stack up against GDP over the past decade. More