A CEO and rodeo queen
Maxxum CEO Anita Lind Janssen saddles up in her off hours.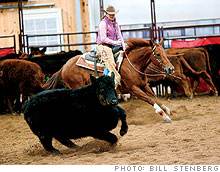 (FORTUNE Small Business) -- Her daily life is all about managing risk, but when Anita Lind Janssen isn't at her desk, she likes to take a few chances. So she picked up the sport of cutting and became a real-life cowgirl.
"It's fast action, big adrenaline, sudden stops," Janssen says of her obsession, which involves driving a horse into a herd of cattle and separating one cow from the rest. "I tend to seek experiences that put me in a position of being a beginner and being able to learn again."
As the CEO of Maxxum, based in Rush City, Minn., Janssen handles asset management for large firms in the middle of transitions. To escape stress and find clarity, she turns to the saddle.
"It's always interesting to me how many lessons you learn about communication and life in general on the back of a horse," says Janssen, 39, who competed in the National Cutting Horse Association's championships last week.

click here
.



My dream is to launch my own business someday. Now that it's time to choose a major, I'm debating if I should major in entrepreneurial studies or major in engineering to acquire a set of skills first. Is majoring in entrepreneurship a good choice?
More
- Spate, Orange, Calif.

More Small Business

Next Little Thing 2010