An IT shop battles the slump
Internet services revenues are down at ConnectNC as customers look to cut costs with bundled offerings - but SEO sales are on the rise.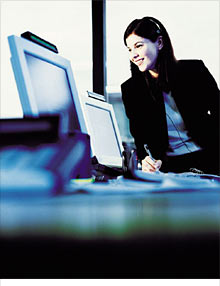 (Fortune Small Business) -- IT support is a cutthroat industry, so computer services company ConnectNC relies on superior customer service to beat back larger competitors.
"It's our biggest advantage," says CEO Monica Zimmerman, 41. "At least 90% of our customers can walk into our office for IT support."
As a result, her front door is her metric. She has seen Internet-services revenues drop 10% during the past eight months, because customers are willing to sacrifice service in favor of bundled offerings - Internet, phone, and web hosting - from large cable companies when the economy is foundering; when it's strong, they're back in her office in Southern Pines, N.C.
In the down times, however, new doors open for the firm: A boom in customers paying for search-engine optimization (SEO) has increased revenues for that division by 20% since last fall.

click here
.



My dream is to launch my own business someday. Now that it's time to choose a major, I'm debating if I should major in entrepreneurial studies or major in engineering to acquire a set of skills first. Is majoring in entrepreneurship a good choice?
More
- Spate, Orange, Calif.

More Small Business

Next Little Thing 2010