The right to bear guns at work
Six are dead in Kentucky. Should business owners have the right to ban guns from the workplace?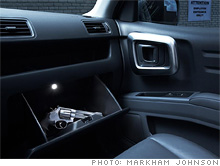 (Fortune Small Business) -- Wesley Higdon didn't have to go far to get his handgun. After an argument with his supervisor at Atlantis Plastics in Henderson, Ky., the 25-year-old simply walked out to the parking lot and retrieved the weapon from the glove compartment of his car. Then, in the early hours on Wednesday, he shot and killed five co-workers before turning the weapon on himself.
There was nothing Atlantis Plastics could have done to make that trip longer: Kentucky is one of six states where employers must allow employees and customers to keep firearms locked in cars parked on company property. Many of these laws apply only to concealed-weapon permit holders, but in Kentucky, if the weapon is stored in the glove compartment - as Higdon's was - no concealed-weapons permit is required. Henderson police say that Higdon had no criminal record that would have prevented him from legally purchasing the gun.
"Employee safety is a priority at Atlantis. We do not allow weapons of any kind in our facilities," Atlantis Plastics spokeswoman Michelle Ebbitt said after the shooting.
Because only about 3% of citizens hold concealed-weapon permits, the guns-at-work debate is primarily one over principle, pitting gun rights against property rights. The group disproportionately affected by the issue is small-business owners, who don't have large corporate HR departments to manage staff conflicts.
Some business owners struggle to balance personal support for Second Amendment rights with their interest in providing a safe, healthy work environment.
Take Tim Rice, owner of Ward's Heating & Air Conditioning in Lakeland, Fla. Rice considers himself a supporter of gun rights, but he's also found his company in a situation that could have led to fatalities. Several years ago, an argument between two of Rice's employees escalated to the point where coworkers had to break them apart; Rice fears that if guns had been on the property, they would have been used.
"If I want to tell somebody that he is not allowed to bring a gun onto my property, then that should be my right," Rice said.
The Florida legislature, however, recently disagreed, and on July 1 legislation similar to Kentucky's is scheduled to go into effect in Florida. The Florida Chamber of Commerce has sued to block it, but if a federal judge rules against their injunction, the state joins a trend that began in Oklahoma, where a Weyerhaeuser paper plant in Valliant fired 12 employees after trained dogs sniffed out the weapons in their vehicles. The guns violated the employer's policy, but it was the start of hunting season, and the workers intended to head to the woods right after their shifts.
The employees sued and lost. But in 2005, Oklahoma's legislature acted to prohibit employers from banning guns in their parking lots. Business groups persuaded a federal court to overturn the law, but that ruling is being appealed. Similar laws have since been passed in Alaska, Kansas, Minnesota, and Mississippi, along with Kentucky.
All the measures claim to exempt employers from liability in the case of a tragedy like Atlantis Plastics', but some entrepreneurs still fear the consequences. When guns are accessible, conflicts intensify. Last year, an employee at a Jackson, Miss., electroplating plant settled a dispute by retrieving a gun from his car and shooting a co-worker in the leg.
John McLean, owner of McLean Tennis in Crawfordville, Fla., supports his state's new law.
"I have no problem with law-abiding citizens carrying firearms in their personal vehicles on my property," he said.
But Tom Burke, owner of TMF Business Forms in Clearwater, sees only a violation. "Governor Crist, he's shoving loaded guns down our throats," he said. "Our property is not owned by him or the Florida legislature."
In Kentucky, recent events are not likely to cause a repeal of the law.
"I'm not opposed to people having the right to bear arms, but I am opposed to people having readily available firepower to do things like this," said state Rep. David Watkins, D-Ky., whose district includes the town of Henderson. "This was a true tragedy, but I'm not willing to tackle another issue which would be very controversial. It would be an issue that I don't think I could win."

To write a note to the editor about this article,
click here
.



My dream is to launch my own business someday. Now that it's time to choose a major, I'm debating if I should major in entrepreneurial studies or major in engineering to acquire a set of skills first. Is majoring in entrepreneurship a good choice?
More
- Spate, Orange, Calif.

More Small Business

Next Little Thing 2010