A roll-up inflatable surfboard
Uli Corp. has seen swelling sales for its travel-friendly inflatable boards.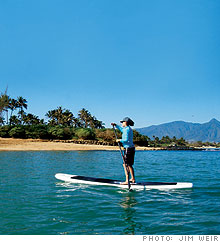 (Fortune Small Business) -- With new limits on checked luggage, how do you catch a wave if you must also catch a plane? Pack your board in your suitcase.
San Diego-based Uli Corp. offers inflatable surfboards, made of a tough, triple-layered composite material, that roll up like sleeping bags and weigh just 16 pounds for the short board or 30 pounds for the 11-foot standup paddle board.
Paddle surfing originated in the 1940s and can be enjoyed on calm waters or ocean curls, and since celebrities such as Jennifer Aniston and Matt Damon have taken up the sport, Uli founders Jim and Chris Weir have seen swelling sales of their $1,349, 11-foot boards. Extreme-surfing world champion Garrett McNamara has even placed an order for the board.
"It's a gold rush," says Jim Weir, 61, who believes that the long board will propel 2008 revenues to triple the $380,000 that Uli collected in 2007.

To write a note to the editor about this article,
click here
.



My dream is to launch my own business someday. Now that it's time to choose a major, I'm debating if I should major in entrepreneurial studies or major in engineering to acquire a set of skills first. Is majoring in entrepreneurship a good choice?
More
- Spate, Orange, Calif.

More Small Business

Next Little Thing 2010