Seat 37C - Brought to you by...
Troubled carriers are using advertising to offset soaring fuel costs, but some say it's not making a dent on their bottom lines.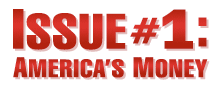 Issue #1: America's Money - Everyday on CNN
NEW YORK (CNNMoney.com) -- Money-losing airlines are trying to find creative ways to raise cash. That includes slapping an ad on just about any part of the plane that doesn't move - including the air-sickness bag.
And advertisers are listening because when passengers buckle up they're not leaving their seats anytime soon.
"It's a captive audience, literally - and sometimes involuntarily - for an extended period of time, so there are certainly opportunities to make contact [with potential consumers] in-flight," said Michael Derchin, an airline analyst for FTN Midwest Securities.
Derchin said in-flight advertising has "been kind of a low-key effort up until now." But with soaring fuel prices and falling ticket sales, he said airlines are "going to be a lot more creative and aggressive in this regard."
Most airlines won't detail how much revenue they're reaping from in-flight ads, nor their advertisers. But US Airways spokesman Morgan Durrant said that his airline -- one of the more aggressive in-flight advertisers -- estimates annual ad revenue of $10 million.
Here's what passengers can expect to see:
Tray tables
When they drop them down, passengers shouldn't be surprised to see ads from major companies.
Marketing company Brand Connections has signed a deal with US Airways to advertise on its folding tray tables, and it's in talks with three other airlines, according to Chief Executive Brian Martin.
In a Brand Connections online video, an actress describes an airplane as "the only place in the world where all of us as active consumers and potential customers have to be strapped in. Your customers, millions of them throughout the world, are captive, strapped into this space by law for the duration of the flight."
But tray top ads are not always inescapable, said Michael Boyd, president of the Boyd Group, which provides consulting and research services for the airline industry: "When I pull down my tray table, I don't pull it down to read it. I pull it down and cover it up with my laptop."
In-flight entertainment
In recent years, passengers have gotten used to in-flight entertainment in the form of TV sets mounted in seat-backs. Carriers like JetBlue (JBLU) and AMR Corp.'s (AMR, Fortune 500) American Airlines use it as an advertising venue.
In-flight entertainment is fertile ground for advertising, according to Brand Connections' Brian Martin, which is why his company signed a deal with JetBlue last year to show ads on the seat-back screens. These ads take place in the form of 30-second spots, or entire sponsored channels.
"Static" or non-video ads are also posted on the GPS tracker channel on the TV set, said JetBlue spokeswoman Alison Eshelman. JetBlue has been running the ads since the fourth quarter of 2007, she said, but the carrier hasn't reported advertising revenue.
Boarding passes
Travel information provider Sojern has a signed a deal with six airlines - Delta Air Lines (DAL, Fortune 500), American Airlines, Continental Airlines (CAL, Fortune 500), Northwest Airlines (NWA, Fortune 500), UAL Corp.'s (UAUA, Fortune 500) United Airlines and US Airways (LCC, Fortune 500) - to print ads on boarding passes. Sojern spokeswoman Susan Booth said these ads are "destination specific," meaning that they advertise restaurants and performances at the flight's destination city, with information on local weather and events.
Delta rolled out its first ad-plastered boarding passes on July 15. Continental plans to follow suit in the fourth quarter. The other airlines did not specify the timing of their boarding pass ads.
Al Lenza, vice president of distribution and e-commerce for Northwest, told the Associated Press on July 15 that the ads are "going to be responsible for many millions of dollars for each airline."
But Michael Boyd, of the Boyd Group, downplayed the amount of revenue that airlines would glean from boarding pass ads. "It'll pay for the first 30 seconds of fuel burn when they start up the engine," he said.
Air sickness bags
Over the years, airlines have explored less orthodox means of advertising with mixed success, such as wrapping the exterior or the interior of the planes with ads, billboard-style.
Now US Airways is seeking advertisers for its air sickness bags. Company spokesman Durrant said in an email to CNNMoney.com, that he "can't provide names of any potential advertisers," but he acknowledged that the "ad space is available."
But the bags aren't generally used for their intended purpose, experts say, which is good for passengers and bad for advertisers. "I just don't feel that for the price, the actual exposure would be enough for the company," said Drew Stoddard, Chief Executive for airline advertiser InterAir Media.
Boyd put it a bit more succinctly: "People are throwing up less on airplanes these days."
The bottom line
David Castelveter, spokesman for the industry trade group Air Transport Association, said that an increase in in-flight advertising is the inevitable result in an industry that's reeling from "outrageously high" fuel costs, which are expected to skyrocket by nearly 50% this year to $61.2 billion.
Airlines have also cut costs through raising fares, shutting down their least fuel-efficient flights, cutting jobs, charging fees for services that once came for free and sending their least fuel-efficient airplanes to the bone yard.
"If an organization finds value in advertising on a tray table, on a boarding pass or on the in-flight entertainment system, then I commend the airline for identifying another important revenue opportunity," said Castelveter, in an email to CNNMoney.com.

Features

These Fortune 100 employers have at least 350 openings each. What are they looking for in a new hire? More

It would be the world's second-biggest economy. See how big companies' sales stack up against GDP over the past decade. More