How they did it: Drilling a horizontal well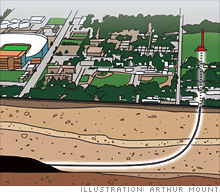 (Fortune Small Business) -- Directional drilling was developed in 1929, but horizontal oil drilling became cost-effective and technically feasible only about five years ago.
Drillers extract natural gas in shale formations from West Texas all the way up into the Appalachians, but these formations cover entire counties and can be 200 or 300 feet thick. Mark Herndon's target in the Lower Skinner Sandstone in Stillwater, Okla., was at best 15 to 20 feet thick and nearly a mile underground.
Steering blind, he needed to guide the drillers in a gradual 90-degree arc. A 30-foot section of steel drilling pipe doesn't bend. But if you string together a thousand feet of that pipe, it can be curved horizontally. The drillers use a half-million-dollar down-hole mud motor - it looks like a regular pipe but has an adjustable housing that can be canted up to four degrees. At one end is a drill bit, at the other an articulated drive shaft and a rotor. It is powered by high-pressure drilling mud flowing from the surface rig.
Guided by the geologist, the drillers start "building the curve" at a rate of nine degrees per hundred feet, until they reach a well inclination of 90 degrees from vertical - the point at which they hope to find oil.

To write a note to the editor about this article,
click here
.



My dream is to launch my own business someday. Now that it's time to choose a major, I'm debating if I should major in entrepreneurial studies or major in engineering to acquire a set of skills first. Is majoring in entrepreneurship a good choice?
More
- Spate, Orange, Calif.

More Small Business

Next Little Thing 2010