What entrepreneurs are feeling: Fear
In tough times, entrepreneurs have every reason to feel anxious. Don't let those feelings slow you down.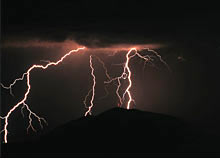 (Fortune Small Business) -- Meeting Ed Sherman, you'd never guess how frightened he is. Debonair and self-assured, he's the founder and creative force behind a reputable boutique ad agency. To all outward appearances, he epitomizes success. But beneath his polished surface, Sherman is struggling to navigate the financial crisis, keep his business viable and, more than anything else, manage his crushing anxieties.
"I'm respected and established," Sherman (not his real name) told me recently. "I have a good stable of upmarket clients, and new business is coming in. But outstanding receivables are substantial, and cash on-hand won't cover my current or near-term expenses." At this point, his voice started to crack. "I'm not sure I'll make it to the end of the year," he said quietly.
Sherman's business problems were mounting just as Wall Street collapsed and the global economy slid toward recession. His suppliers and vendors demanded payment for services rendered. Banks were reluctant to extend credit. His clients were tightening their belts, not writing checks. And unlike Bear Stearns or AIG (AIG, Fortune 500), Sherman's business wasn't eligible for a government bailout.
Most entrepreneurs have experienced some version of his crisis. In the startup world, volatility and insecurity go with the territory. But Sherman's problems aren't simply the result of tight cash flow and the national economic meltdown. I'm a psychoanalyst, and he turned to me rather than a traditional business consultant because he sensed that his core issues were emotional, not financial.
Early in our conversations it became clear that Sherman, 35, understood what steps he needed to take to fix his business: collect late receivables, trim expenses and negotiate larger upfront retainers from new clients. But he was paralyzed by the mere prospect of pressing customers to pay those overdue invoices. Actually make the call? Impossible. The mere thought of asking a client for more money made him feel like Albert Brooks's sweaty, hyperventilating character in Broadcast News.
The more his business and the economy suffered, the more distraught he felt. That's true for a lot of us, of course. As many as 80% of Americans currently feel stressed about the economy and their personal finances, according to a recent survey by the American Psychological Association. No less an authority than Warren Buffett, writing recently in the New York Times, argued that fear was "widespread, gripping even seasoned investors." But Buffett also suggested that fears "regarding the long-term prosperity of the nation's many sound companies make no sense."
Buffett is onto something: Anxiety isn't always rational. But that doesn't make it any less real from an emotional perspective. Running a small business requires enormous psychological resources in the best of times. It's even harder to stay focused and positive while the pundits predict economic Armageddon and the Chicago Board Options Exchange Volatility Index reaches triple digits. Sherman and other entrepreneurs I work with feel pressured and concerned; they want to know what to do.
Sometimes the best response is not doing. That doesn't mean doing nothing, but rather not taking action. This doesn't come naturally, especially for entrepreneurs. Humans are hardwired to fight, flee or otherwise act in response to threatening situations. Our cultural admiration of people who manage to remain calm under duress comes from our visceral understanding of how difficult this is.
Business owners may be particularly susceptible to the corrosive effects of fear and anxiety because they're professionally more isolated than most, having no peers or superiors, only employees, clients and competitors. Especially in high-stress situations, having partners (or a trusted confidant) can make all the difference.
The four founders of Elemental Architecture and Sine Elemental, a New York City architecture, design and branding collaborative, operate like a high-wire acrobatic team: Each partner depends on the others for support and balance. I met with them recently as they prepared a presentation for a prospective client. David O'Higgins, 50, Elemental's lead creative, was feeling particularly stressed. In a poignant, staccato voice, he listed the flavors of his anxiety: "Did I pack my daughter's apple? My vision isn't as good as it was. Your call cannot be completed as dialed. If I'm so visionary, how come I'm not getting paid? Fear of never sighting land. Fear of being wrong."
His partner, Tom Abraham, didn't miss a beat. "Each of us has had the cold-sweat-in-the-middle-of-the-night moment," he said, as the others nodded. "We trust you." (Update: Negotiations with that client continue, but working as a team with one soloist, Elemental was still in the running.)



My dream is to launch my own business someday. Now that it's time to choose a major, I'm debating if I should major in entrepreneurial studies or major in engineering to acquire a set of skills first. Is majoring in entrepreneurship a good choice?
More
- Spate, Orange, Calif.

More Small Business

Next Little Thing 2010