Who can save Detroit?
Automakers are heading back to Capitol Hill to plead for a bailout. They may finally get help...but not from Congress.
Map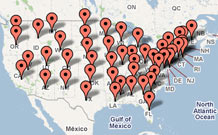 More than 2 million workers in every state - including Alaska and Hawaii - draw their pay from the auto industry.
»»
NEW YORK (CNNMoney.com) -- Can anyone rescue the U.S. automakers?
General Motors (GM, Fortune 500), Ford Motor (F, Fortune 500) and Chrysler LLC each unveiled plans Tuesday that detailed how they would return to profitability if they get federal loans.
Still, even with President-elect Obama and the outgoing Bush administration saying they support providing assistance to the automakers, it's not clear that they will get the help they need.
The CEOs of the three firms are due to appear in front of Congress Thursday and Friday to make their case for what's now a $34 billion loan package. They had originally been requesting $25 billion.
GM is asking for up to $18 billion and says it needs $4 billion of that almost immediately to avoid running out of cash before the end of the year.
Chrysler is seeking $7 billion and has warned that it too could run out of cash.
The situation is a bit better at Ford but it said it wants to be able to access up to $9 billion as a backstop.
The Big Three's last visit to Capitol Hill was nothing less than a public relations disaster, as many members of the House and Senate denounced the CEOs for their bad decisions and worse symbolism. Each CEO flew to Washington to ask for help aboard their own corporate jets.
This time, GM CEO Rick Wagoner, Ford CEO Alan Mulally and Chrysler CEO Robert Nardelli all drove to Washington in fuel-efficient hybrids. And they all have agreed to cut their salaries to $1 a year if they get federal loans.
Will that be enough to convince a skeptical Congress to grant Detroit the help it needs? Here's a look at how various rescue situations for the Big Three could play out, even if Congress says no (or simply doesn't vote on) a bailout.
Congress gives in
Even critics in the House and Senate may be reluctant to reject the automakers' request for help.
There are few members of Congress who haven't heard from the auto dealers in their district, as the U.S. automakers mobilized dealers to turn up the pressure on Washington.
And since the Big Three's 14,000 dealers employ about 740,000 people nationwide, legislators have to worry about rising job losses if a Big Three automaker were to fail -- even if their district is no where near the Midwest auto belt.
But one of the problems facing the automakers is that they are asking for money from the current session of Congress, which includes more Republicans than the new Congress that will take office on Jan. 6.
Democratic leaders of both houses, who support the automakers' request for help, still won't commit to a vote by the current Congress. But once the new session starts, there could be a vote early in the year...even before President-elect Obama is inaugurated on Jan. 20.
While GM officials stress they need help before then, others believe they might be able to survive long enough for the new Congress to keep them out of bankruptcy.
"If the GM board decided there was help on the way in early January, I'm sure they'd make an effort to preserve cash and get to that point," said Bob Schulz, Standard & Poor's senior auto credit analyst.
The Treasury or Fed decide to help
If Congress doesn't act before the end of this year, it's still possible that other parts of the government step in.
Some Democrats, including House Speaker Pelosi, insist that the Treasury Department could use some of the $700 billion set aside in October to help banks and Wall Street firms.
But Treasury Secretary Henry Paulson and the Bush administration strongly oppose that idea. What's more, the Treasury has already committed all but $20 billion of the first $350 billion it is allowed to hand out without approval from Congress.
That leaves the Federal Reserve as another option. The Fed agreed to loan $85 billion to insurer American International Group (AIG, Fortune 500) in September and has been loaning hundreds of billions of dollars more to major companies, many outside the financial sector. It also recently agreed to guarantee up to $306 billion in assets of struggling bank Citigroup (C, Fortune 500).
A spokesman for the Fed did not return calls seeking comment. But The Wall Street Journal reported Thursday that the Fed is likely to turn away any requests to help the Big Three.
The Fed could probably justify intervention as necessary given the tens of billions of unsecured debt that could go into default if there was a bankruptcy of one of the Big Three. Fed Chairman Ben Bernanke pledged in a speech earlier this week that the central bank wasn't done doing what is necessary to avoid damage to the financial system and the economy.
Still, some Fed watchers think the agency would be unlikely to go where Congress has refused to go.
"The Fed is already so activist that I feel Bernanke ... would see assistance to Detroit as unnecessarily complicating an already very complicated relationship with Congress," said Tom Schlesinger, executive director of Financial Markets Center, a research firm that closely follow the Fed.
But he also said the Fed might be more open to such a move if Democratic leaders in Congress signal they would welcome such stop-gap support.
"There may be winking and nodding going on as we speak," he said.
Union concessions provide a spark
The United Auto Workers union announced Wednesday that members will be willing to make modifications in the contracts they reached with the three U.S. automakers just last fall.
Those contracts granted the companies many cost-savings concessions, including a two-tier wage and benefit structure for new hires and a shift of $100 billion in future retiree health care costs to trust funds controlled by the unions.
The 2007 contract closes much of the labor cost gap between the automakers and the non-union plants operated in the United States by Asian automakers.
Ford estimates that its hourly labor costs will go down from an average of $71 under its previous contract of $71 for pay, benefits and all retirement costs down to $53 an hour by 2010 under the new contract. The comparable numbers for the Asian auto plants is $49 an hour, according to Ford.
But none of the savings that the UAW can offer, while important to their long-term competitiveness, will provide the automakers with the billions they need to get through the current auto sales slump.
"To be honest with you, right now if the UAW members went in these facilities and worked for nothing...it would not help the companies that much," said UAW President Ron Gettelfinger.
Fresh start after bankruptcy
Many critics of the auto industry argue that bankruptcy is the best choice for the Big Three. A bankruptcy judge has broad powers to let the automakers shed their debts and other obligations, as well as get out of labor contracts that they can no longer afford.
Other industries, including steel and airlines, have used bankruptcies to emerge financially healthy.
But the automakers say that consumers' concerns about warranties and the resale value of vehicles would stop them from buying from a bankrupt automaker. The resulting drop in sales would make already bleak conditions worse.
There are also questions about whether the automakers could get the financing they need to operate under bankruptcy court. Many lenders that have loaned to bankrupt companies in the past have exited the field in the wake of the credit crunch. And experts question whether the crucial source of funds needed to emerge from bankruptcy would be available to the automakers.
"The size of the companies, the state of the capital markets [and] the uncertainty about how bankruptcy would play out...means the ability to get [financing] is a big question mark," said S&P's Schulz.
Car buyers come back
The Big Three's problem is mainly that demand for their products has fallen off a cliff. And unfortunately, consumers are the least likely saviors of the industry.
Sales have been in a downward spiral all year and the nation's major automakers, including Toyota and Honda, each reported sales drops of at least 30% in November on Tuesday, resulting in the worst month for industrywide U.S. auto sales since 1982.
The fact that overseas automakers also saw huge drops in sales is a sign that the problems in the auto industry are not due only to bad decisions by Detroit.
Toyota (TM) also cut its production Wednesday due to weak sales. It now has more laid off U.S. workers collecting nearly full pay than the Big Three, according to the UAW.
With the economy getting weaker, job losses mounting and credit remaining tight, a needed rebound in demand appears unlikely in the near-term. The seasonally adjusted annual sales rate was just over 10 million vehicles in November, far below the 16.1 million vehicles sold in 2007
Chrysler is forecasting that industrywide sales will stay below 14 million through 2012. GM expects somewhat stronger sales but is still designing a business plan to be profitable even if annual sales are in the 13 million range.
But if the economy does turn around next year and credit conditions improve, some experts say that there could be pent up demand for cars. And that could deliver the revenue and cash flow the automakers sorely need.

Features

These Fortune 100 employers have at least 350 openings each. What are they looking for in a new hire? More

It would be the world's second-biggest economy. See how big companies' sales stack up against GDP over the past decade. More