Automakers' fourth-and-long plea
Big Three CEOs on Capitol Hill for fourth time in two weeks as they beg for 11th hour help to stave off bankruptcies.
Map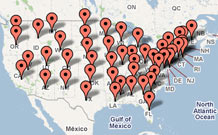 More than 2 million workers in every state - including Alaska and Hawaii - draw their pay from the auto industry.
»»
NEW YORK (CNNMoney.com) -- Leaders of the nation's auto industry made their final plea on Capitol Hill Friday for a $34 billion bailout they said Detroit - and the U.S. economy - can't live without.
Their appearance before the House Financial Services Committee is the fourth time in the last two weeks that industry and labor leaders made their case to Congress for billions in federal loans. House Speaker Nancy Pelosi and Senate Majority Leader Harry Reid said that they expect Congressional votes next week on assistance for the auto industry.
General Motors chief executive Rick Wagoner, Ford Motor CEO Alan Mulally, Chrysler LLC CEO Robert Nardelli and United Auto Workers union President Ron Gettelfinger testified in favor of up to $34 billion in loans.
GM (GM, Fortune 500) has warned it will run out of money needed to stay in business later this month without federal help. It says it needs at least $4 billion by the end of the month, and another $6 billion in the first quarter as part of up to $16 billion of help it says it will need to survive until 2010.
Chrysler says it is also on the verge of running out of money and says it needs $4 billion by the end of March, part of $7 billion it is requesting in total. Ford (F, Fortune 500), which has more cash on hand, said it hopes to avoid borrowing the money, but it wants access to up to $9 billion in loans as a backstop in case problems get worse than expected.
Making a better impression
The CEOs ran into harsh criticism the last time they appeared before the House Committee in November, as lawmakers hammered them on their lack of details on how they would spend the $25 billion then being requested and their decision to each fly to Washington on their own private jets.
This time the auto industry leaders came with detailed plans submitted earlier this week on how they would return to profitability if they get the federal loans. They also drove hybrid vehicles to Washington and promised to work for $1 a year.
Even Rep. Gary Ackerman, D-N.Y., who was the first to raise the issue of corporate jets at the earlier hearing, seemed more open to helping the auto industry in his opening comment this go round.
"One does not always have a second chance to make a first impression. Welcome back," Ackerman said. "The last time you didn't get it. By coming up with this plan, maybe you do."
The hearing started an hour after the Labor Department reported the loss of 533,000 jobs in November, the biggest loss in nearly 34 years. The state of the economy and the ongoing credit crisis were an argument for giving the automakers some kind of help, said Committee Chairman Barney Frank, D-Mass.
By the end of more than six hours of testimony, it was clear that the panel was far more open to the idea of a bailout than it had been just two weeks ago, even if a solution still seemed elusive.
"I think it's fair to say the disastrous job report today has heightened the interest in doing something," said Frank at the conclusion of the hearing. "If we are lucky, we'll come out with a bill next week that nobody likes. Because any bill that any individual might like won't pass. But there is a sufficient consensus that we need to so something acceptable to enough members of both houses so that we avert disaster."
The CEOs' appearance followed testimony they gave before the Senate Banking Committee on Thursday.
A senior Democratic leadership aide tells CNN that Senate Majority Leader Harry Reid, D-Nev., has asked Senate Banking Chairman Chris Dodd, D-Conn., and his staff to work this weekend to prepare several options on how to help auto companies, which Democrats will consider first thing Monday morning.
The aide gave a highly optimistic timetable, given the deep divide among lawmakers about how, and whether to help Detroit.
"Ideally we would reach consensus on process and substance with our caucus and Senate Minority Leader Mitch McConnell midday Monday," said the aide, who said their goal would be to schedule any necessary votes no later than mid-week.
Democratic leaders were hoping to confer with Republicans about various ideas, which most lawmakers are reluctant to discuss in public.
One option that several leading Democrats are talking about is giving the government a big role in restructuring the auto companies, either with an oversight board or an individual. Some Democrats have suggested a "car czar," and others suggest the president put the Treasury secretary in charge.
House Speaker Pelosi and White House Chief of Staff Josh Bolten spoke Friday about possible compromise ideas to help the auto industry, according to a Democratic official familiar with the conversation. The official declined to provide more details.
Two congressional officials told CNN Friday evening that Pelosi is now open to tapping the $25 billion previously approved to help automakers shift to producing more fuel-efficient cars for use instead as part of the bailout, a move she had been adamantly opposing.
One of the officials said that the new job numbers released Friday "changed everything."
"Today's announcement of major job losses and findings from Congressional hearings from the last two days make it clear that Congress must work on a bipartisan basis to provide short-term and limited assistance to the automobile industry while it undertakes major restructuring," Pelosi said in a written statement Friday evening.
"I expect that legislation will be brought up for a vote in the House next week," she said.
Senate Majority Leader Reid also said he expects a vote next week.

"It should never have come to this. The auto companies dug themselves into this hole and for years did nothing to climb out of it," Reid said in a statement. "But we are not acting for executives' sake; we are acting on behalf of the workers and their families. This week's hearings have made clear that we cannot let these companies fail."
Not all were convinced
Still there was a lot of doubt voiced by members, both Democrats and Republicans, including those who said they wanted to give help to the automakers.
Some lawmakers were doubtful about saying yes to the full $34 billion. One suggestion was to approve just enough money to keep GM and Chrysler out of bankruptcy until the end of March - perhaps $10 billion for GM and $4 billion for Chrysler. That could give the new Congress and new administration time to work on a broader bailout deal early in the new year.
Rep. Paul Kanjorski, D-Pa., said he believed the automakers were hoping the threat to the economy would cause Congress to throw them whatever money they ask for.
"I do not sense that Congress' appetite to do that," he said. "I think you're skating on incredibly thin ice. I say that as a friend of the industry."
Some Republicans voiced support for help Friday. Michigan Republican Thaddeus McCotter said it was important for bailout supporters to realize that the requested money is likely to come from programs that have already been approved.
It could come from either the $700 billion set aside to help banks and Wall Street firms, or from the $25 billion that was approved to help automakers shift to producing more fuel efficient cars. McCotter proposed splitting the bailout from those two programs.
"Those members who think they will save the taxpayers $25 billion or $34 billion by voting against this, they are mistaken," he said.
The bankruptcy option
But several of the committee's Republican members expressed more reluctance to sign onto helping the industry. Some members repeated their belief that a bankruptcy filing would be a better way for the companies to become competitive. They also expressed concern about other industries and businesses that would seek help if the automakers get aid.
"Every industry is hurting today. There isn't one that wouldn't be better off with $34 billion," said Rep. Jeb Hensarling, R-Texas. He and other Republicans questioned helping the auto industry that had been having problems even before the financial crisis.
The CEOs essentially repeated their opening comments before the Senate Banking Committee Thursday. They all acknowledged mistakes made by the companies in the past, as well as problems with their previous appeal to Congress.
Automaker bankruptcies, the CEOs argued, would ultimately cost the nation more than a bailout because of the hit to the economy.
"I recognize that this is a significant amount of public money," said Chrysler's Nardelli. "However, we believe this is the least costly alternative considering the depth of the economic crisis and the options we face."
But Rep. Carolyn McCarthy, D-N.Y., appeared frustrated that the CEOs did not have a clear dollar impact of a failure's cost to the government and economy. She said that was the kind of argument needed to win support from skeptical voters around the country.
"You've got to learn how to speak to the American people," she told them.
Some of the members of the committee said they believe that anger over the Wall Street bailout was spilling over into the debate about giving help to the automakers, and that the industry was paying a price for that. But others said that the average American is also angry at the idea of helping three companies whose products they no longer want to buy.
"The American public is damn mad, they do not want us to bail out our industry," said Rep. Jackie Speier, D-Calif.
In response, one of the outside economists testifying before the committee argued that anger would rise if the automakers fail and the battered U.S. economy gets a lot worse.
"If we allow the most important industry in this country to disintegrate, believe me the fury will be nothing like what will happen when they hear about a $25 billion bailout," said Columbia University professor Jeffrey Sachs. "We're in the steepest descent we've been in in modern times. The American people need to understand this isn't a favor for the industry. This is to brake a collapse of our economy."

CNN's Dana Bash, Ted Barrett and Deirdre Walsh contributed to this report.

Features

These Fortune 100 employers have at least 350 openings each. What are they looking for in a new hire? More

It would be the world's second-biggest economy. See how big companies' sales stack up against GDP over the past decade. More