$1 trillion rescue: Not so far-fetched
As economic conditions worsen, the estimated cost of stimulating the economy shoots up.
Map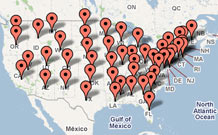 More than 2 million workers in every state - including Alaska and Hawaii - draw their pay from the auto industry.
»»
NEW YORK (CNNMoney.com) -- President-elect Barack Obama hasn't put a dollar figure yet on his promise to create an economic recovery package that he says will generate or save 2.5 million jobs over two years.
His reluctance may be with good reason: Obama is six weeks from taking office, and the potential cost of helping the economy could rise.
On Friday, the government reported that 533,000 jobs were lost in November, far more than economists had forecast. On Thursday alone, companies across a variety of industries announced nearly 30,000 layoffs.
It's not clear yet how bad things will be by the time Obama takes office in January.
"The picture is very fluid, and it's changing very quickly," said Gus Faucher, the director of macroeconomics at Moody's Economy.com.
Congress is expected to have an economic rescue bill ready for Obama to sign on Jan. 20. The Bush administration so far has been unwilling to commit more money to economic stimulus, although it did recently agree to an increase in unemployment benefits.
The more conditions deteriorate, the more likely it is that economists will jack up their estimates for what's required to put the economy back on track.
One leading economist, Economy.com founder Mark Zandi -- who was an unpaid adviser to the campaign of Republican presidential candidate John McCain -- boosted his estimate for needed stimulus to $600 billion from $400 billion in just nine days late last month.
Even with his increased estimate, "the $600 billion stimulus plan would not forestall a sizable decline in real GDP in 2009," Zandi wrote. He believes such a plan, however, would limit job loss and help restore gross domestic product -- the broadest measure of the economy's performance -- to its previous peak by the summer of 2010.
A Democratic aide in the House told CNNMoney.com that at the moment it's likely the proposed stimulus package for January will be between $400 billion and $500 billion and would include elements for infrastructure spending, green energy initiatives and tax cuts.
And if they can secure White House support, Democrats next week may try to pass an increase in food stamp benefits and in payments to states to help them fund Medicaid coverage, demand for which goes up when unemployment rises. But as of Friday afternoon, that seemed highly unlikely.
In mid-November Larry Summers, whom Obama has named to head his National Economic Council, said estimates for needed stimulus range between $500 billion and $700 billion.
But now some are saying even that may not be enough. Nobel Prize-winning economist Joseph Stiglitz of Columbia University, for instance, said in an op-ed in the New York Times last week that the size of the stimulus package could run as high as $1 trillion. Obama's goal of creating or saving 2.5 million jobs is too modest and should be doubled, he added.
Economy.com's Faucher said the total cost of stimulus could come close to $1 trillion but not necessarily all at once.
Lawmakers might pass a $500 billion or $600 billion package in January, but in the months that follow "if something goes wrong that ups the ante," Faucher said. Congress might need to commit another $400 billion or so by June of next year if the credit markets don't loosen up sufficiently, if the jobless rate continues to rise or if large companies like the automakers go belly up, he explained.
In the end, a serious guessing game
Not all economists are eager to put a price cap on a stimulus package.
"Be skeptical of all these numbers. All of them are guesses. ... They're based on notions without foundation, that we can forecast the depth and duration of the downturn," said Douglas Holtz-Eakin, a former Congressional Budget Office director who served as McCain's top economic adviser during the campaign.
The risk of making the wrong assumptions about the scope of the downturn is that Congress commits too much or too little money to deal with it, or disburses the money at the wrong time in the economic cycle.
This week, the National Bureau of Economic Research formally concluded that the United States has been in recession since December 2007.
Not long ago, many economists believed the recession would end by June 2009. Now most view that time frame as a best case scenario.
Rich Yamarone, director of economic research at Argus Research, describes himself as the "most optimistic guy on Wall Street." Three weeks ago he told CNNMoney.com he saw gloom, but not doom, in the economy.
Now he's not so sure.
Yamarone has changed his outlook in the past two weeks because of business data and sentiment surveys, as well as his conversations with C-suite executives across the country.
"We've gone from a yellow flag warning to a gale 5 hurricane warning," Yamarone said. "We're talking about a drowning economy." Without a sufficiently big stimulus package, he noted, "there's no catalyst for this to change."
That said, he's still reasonably optimistic that the economy might start to turn around next summer if Congress passes a stimulus package in the neighborhood of $700 billion and if the infrastructure projects funded by that package and intended to create jobs are up and running within 30 to 90 days from the time the package is approved. Any longer and he said he'll have to rethink his forecast.
At this point, it's all about jobs and fostering conditions to create them, Yamarone said. "The government has to bail out its citizens. This situation gets more grave by the day."

Features

These Fortune 100 employers have at least 350 openings each. What are they looking for in a new hire? More

It would be the world's second-biggest economy. See how big companies' sales stack up against GDP over the past decade. More