Merrill CEO drops $10M bonus bid
John Thain asks the battered brokerage's compensation committee to skip his bonus this year.
Tracking the bailout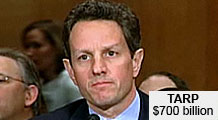 NEW YORK (CNNMoney.com) -- Merrill Lynch's chief executive John Thain has reportedly dropped his request for a $10 million annual bonus after being blasted by New York Attorney General Andrew Cuomo.
Thain requested at a board meeting on Monday that Merrill's compensation committee not award him a bonus for 2008, and the board of directors accepted that request, Merrill Lynch said.
Thain had reportedly previously asked for a bonus of up to $10 million, which prompted Cuomo to send a strongly worded letter to Merrill's board of directors in which he called Thain's request for a bonus "nothing less than shocking."
Cuomo pointed out that the brokerage reported losses for every quarter this year, and has lost more than $11 billion in 2008. He added that Bank of America's (BAC, Fortune 500) takeover of Merrill, which was formally approved by shareholders Friday, "seems to have been the only thing that saved Merrill from collapse."
"Clearly, the performance of Merrill's top executives throughout Merrill's abysmal year in no way justifies significant bonuses for its top executives, including the CEO," Cuomo said in the letter.
Cuomo has been a vocal critic of the "outsized" bonuses Wall Street's top executives have received, which he says are even more unjustified in light of the current economic crisis and the billions of taxpayer dollars that have been injected into the banking system.
"It is imperative that Merrill's Board prevent wasteful expenditures of corporate funds on outsized executive bonuses and other unjustified compensation," Cuomo said.
Merrill's board of directors stood by Thain's leadership.
"The Board accepted Mr. Thain and his management team's request and applauded the Thain-led management team's superb performance in an exceptionally challenging environment," said John Finnegan, chairman of Merrill Lynch's compensation committee, in a prepared statement.
Meanwhile, John Mack, the chief executive of recently minted commercial bank Morgan Stanley (MS, Fortune 500), will forgo his bonus this year, according to a company spokeswoman. Going forward, Morgan also plans to tie executive compensation more closely to the firm's performance.
"This gesture by Morgan Stanley is appropriate, and I hope other firms like Merrill Lynch will take it to heart," Cuomo said in a separate statement.
Additionally, the top seven executives at Goldman Sachs (GS, Fortune 500) decided to forgo annual bonuses last month.
"Goldman Sachs laid down the gauntlet," said Paul Hodgson, senior research associate at the Corporate Library, an independent corporate governance research firm. "For anybody to diverge from that path is inappropriate."
Thain, 53, replaced Stanley O'Neal as chief executive of Merrill Lynch after the firm reported its first multi-billion dollar loss on bad mortgage-backed assets late last year.
As losses accelerated, Thain orchestrated the deal with Bank of America in September to save 94-year-old brokerage.
"Thain was brought in after much of the damage was already done. But it's not as if he hasn't received adequate compensation," Hodgson said.
Indeed, Thain received a $15 million sign-on bonus when he took over the firm.
"While American families struggle to keep their jobs and their homes, I question the chutzpah of asking for a $10 million taxpayer-subsidized bonus," said Senate Majority Leader Harry Reid, D-Nev., in a statement.
In October, Merrill Lynch received a $10 billion capital investment from the government's Troubled Asset Relief Fund. Bank of America got $15 billion from TARP.
To date, the government has given a total of $161 billion to more than 50 banks.

Features

These Fortune 100 employers have at least 350 openings each. What are they looking for in a new hire? More

It would be the world's second-biggest economy. See how big companies' sales stack up against GDP over the past decade. More